It's Father's Day. We woke up Daddy at 8:15 this morning with breakfast in bed and presents.
Breakfast was
Egg Sandwich with Spinach, Brie and Bacon
. The recipe is from
Framed
, my favorite food blog. He followed a link off my blog back in February and immediately told me that I had to make the recipe for Father's Day. I remembered and he didn't, but he loved it anyway. A was even adventurous to try it and she liked it. The boys had egg and "square cheese" on an english muffin.
For presents, the kids made him cards and picked out a new golf shirt.
He got a toilet seat from me. The toilet seat in the boys' bathroom is nasty and rusting and impossible to clean. I asked for a new toilet seat forever. I got fed up cleaning bathrooms this week so I got him one for Father's Day. Just what every Father dreams of, yes?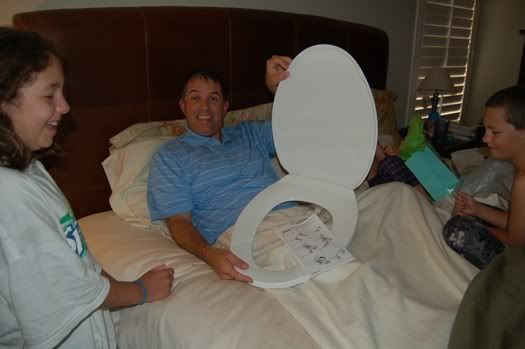 Pop-pop is coming over this afternoon. We're feasting on steaks and twice baked potatoes and using some tomatoes fresh picked this morning. Hopefully all dads will have a great day.