Back on April 4th, we discovered that the shower in our bathroom was leaking. We discovered because there was mold in the carpet and baseboards in our bedroom. Gross. We have been walking down the house to shower in the kids' bathrooms for the past 10 or so weeks. Not fun.
When nobody would return our phone calls just to repair the master shower, we expanded it to include minor renovations on the kids' baths too. We still had issues getting people to return our calls, come to the house to check out the project and then actually give us a bid on the project.
Finally we picked a contractor and another 3 weeks went by with sporadic communication. This weekend we were considering getting more bids and moving on, they finally called this morning to tell us they will be here at 8am tomorrow to start the work.
Yikes. I had a lot of prep work to do. This evening, I cleaned out my bathroom vanity from top to bottom. I found a lot of old makeup.
The high school years: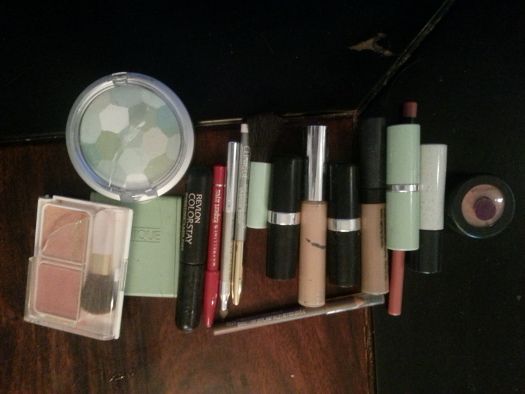 Can you believe I still have makeup from the 80's? I'm not sure about that mascara but it was sticky and oozy and really old.
The college years:
I know this was purchased in late 1992, right before S#1's wedding. That nail polish is old and dried up. I'm guessing it was from this time period.
Post college years: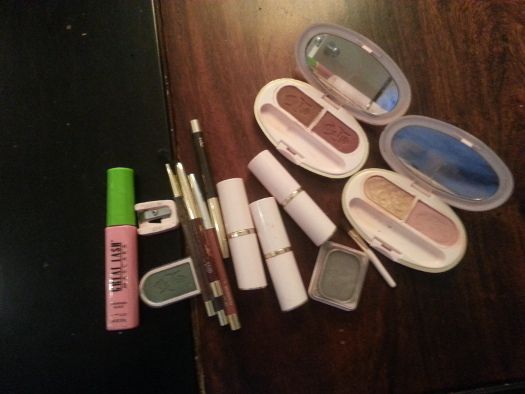 This makeup was purchased from 'Fod & Hod', the Mary Kay lady my friend met while working at Enterprise Rent A Car. She had a heavy Texas accent and she would 'fod & hod', which meant you could post date your check and she would fold it and hold it until that date before she deposited it. I like that you can see the original impression in the eyeshadow. You can tell how little I used it.
The 2000's: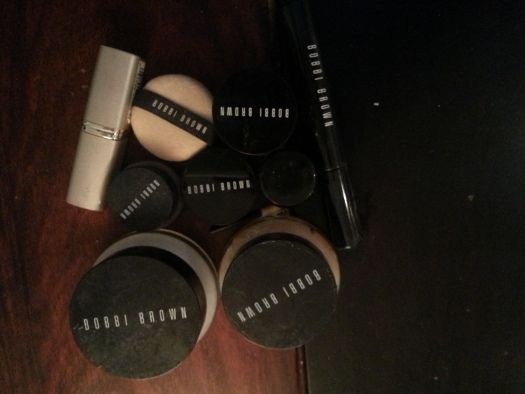 This makeup was purchased when A started grade school and we had to go to the school auction/gala. I went to the Bobby Brown makeup counter and got a make over in the afternoon before the big night. I did this two years in a row and purchased stuff both times. I liked this makeup but it was expensive. DH still isn't over the shock. He brings it up every now and then, almost 10 years later.
The 2010's:
The Dior Mascara was a giveaway in a bag at the auction gala last year. I don't think I've ever used it. I bought the lipstick and blue nail polish for the same event. I know that I also purchased some eyeshadow and blush, but I think those were appropriated by A for her dance recitals.
I think I'm missing another bag of makeup somewhere because I know I'm missing my original case from Mary Kay that I had as of maybe a year ago.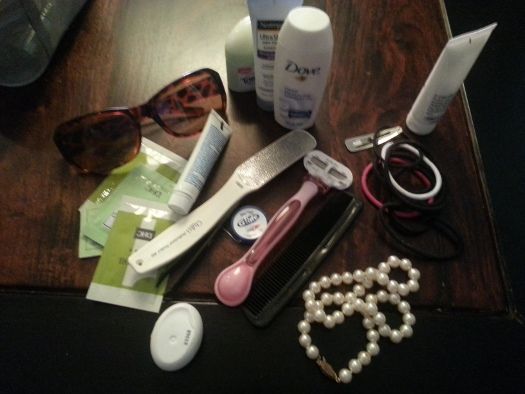 In addition to make up. I found all these samples, hairbands, a pair of sunglasses from the dollar store, a used razor and a necklace that I think I wore in one of my sisters weddings.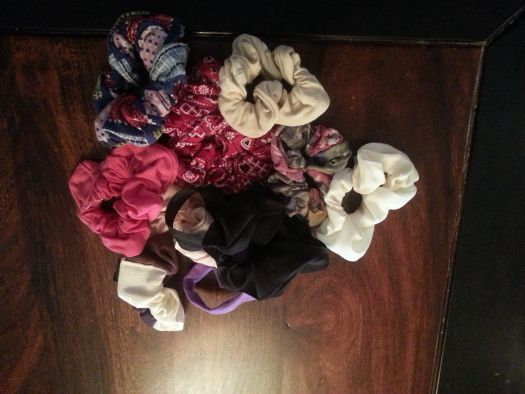 And a pile of scrunchies from college years.
You'll be happy to know that I tossed the makeup. I told DH I should go buy some new makeup. I've been thinking about it since I started reading this
blog
. She does monthly recaps on her favorite beauty products that make me want to buy them. Then I remember that I barely wash my face and I wear makeup a maximum of 5 times a year. I could spend a ton of money and then end up throwing it out 20 years from now!