We had a nice 3 day long Christmas.
Christmas Eve we went to the children's mass & 2 parties.
Christmas morning we enjoyed family time and playing with Santa gifts. I think the biggest hit was guitar hero.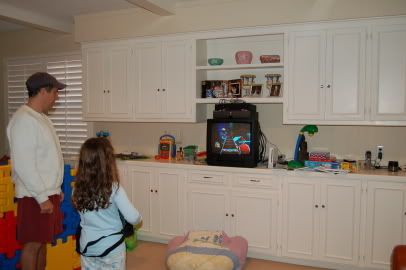 Christmas afternoon, we went to the ILs house. There was plenty of presents, food & fun. The kids got remote control trucks & planes & robots. They had a lot of fun playing with them until they drained the batteries!

Monster Truck

The day after Christmas we spent with my family. There was tons of mexican food, yummy tamales & fajitas. The kids exchanged presents.

Batman

I spent 5 hours yesterday morning making my gifts for sisters 2,4 & 5 plus Mom & Dad. Luckily I had to send gifts to sister #1 last week so only had 5 to make. My fingers are still sore from cutting all that paper. I got the
template
from
A Little Hut
. I've always loved her paper art but I have a new found respect for it. I didn't realize what it took to cut paper while following a dotted line. It was not as easy as I thought it would be. My pictures aren't great, lighting was bad, so it is hard to tell. Each month has the initial cut out and it is backed with a "theme" paper. I'm happy with how they turned out.

January - December



5 calendars done

So now that Christmas is over, I have to start planning for J's birthday. Only 3 more days to go.