Yesterday was my birthday. It was a crazy busy no relaxing kind of day.
I got the kids up, dressed, fed and to school. I stopped at Chik-Fil-A for chicken biscuits for breakfast. I decided I needed some sort of treat since it was my birthday.
I spend the morning shopping and taking J to his doctor's appt. DH had a super busy afternoon/evening so he had planned to take me out to lunch. However, J's appt interrupted those plans. At least I had a yummy breakfast. After the long appt, I took J back to school. He missed lunch so I sat with him in the cafeteria while he ate his lunch. I grabbed a bite to eat and visited a dear friend in the hospital.
After seeing that visit, it was time to pick the kids up from school. A had volleyball practice and I had to take J to have blood drawn. Next we tackled homework and missed classwork from all his days out, picked up A from volleyball, came home to more homework, DH managed to reheat leftovers to feed everyone for dinner. I headed out to the Meet the Teacher night at school for J. Came home, put boys to bed, ran to the grocery store for essentials and finally crashed in bed.
So it was a just a typical crazy busy day in the life of a now 40 year old mom.
There were some nice benefits to turning forty.
S#1 sent me a lovely box of
caramels
from Fran's Chocolates. I've already enjoyed a few. And I was even nice enough to share one with DH. The children will not see this box.
Mom came by with roses and her colander that I've coveted forever.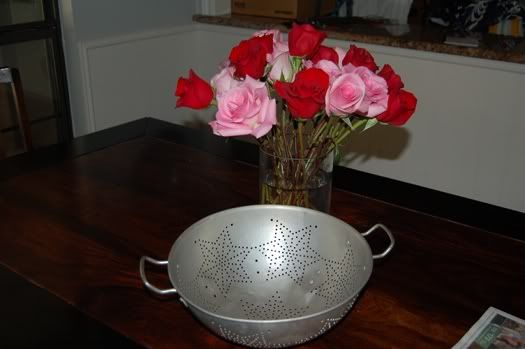 DH & the kids got me a huge assortment of things I need and/or love and/or wanted.
Overall, it was a fine birthday, but I'm glad it is over.