DH went out last night to a concert with a guy he works with. I stayed home with the kids. After getting children to bed and a long phone call with my friend Shannon in Austin, I sat down to watch a little HGTV and look on the computer.
I started with the blog
Young House Love
. It is a blog that I like to follow but have never added to my reader. Sort of live Smitten Kitchen, I like to look it up every now and then and have a lot of posts to read. Yesterday's was on HGTV and Emily Henderson. YHL led me to Emily Henderson's
blog
and that led to
Hommemaker
. I almost shouted when I read this post. He's showing off his golf sweater. He's wearing my sweater! Mine has doesn't have the green collar and trim and the golfer is in red instead of yellow but it's the same.
Way back in 1991 or maybe 1992, my roommate in college, Ida, got a package from her grandmother. She was very excited because her grandmother usually sent good packages. This time it was the golf sweater. There were other things in it but the golf sweater was the prize. Ida called her mom and figured out that the packages had been switched and the sweater was suppose to go to her dad. Somehow they agreed that her father would never wear it and I ended up with the sweater.
It was a fabulous sweater. Remember, I was going to school in South Bend, IN. It was mighty cold up there. The sweater was made from a heavy wool and lined in flannel. It was mighty warm. Plus the golf theme just added to my quirky style, which was just plain ugly according to my BIL. I work Birks & wool socks in the snow. I wore galoshes 20 years before hunter boots became popular. I had a fabulous Guatamalan hat and poncho. And the golf sweater. I was stylin'.
A graciously agreed to model it for me.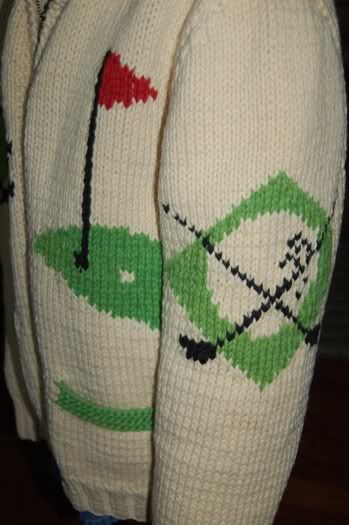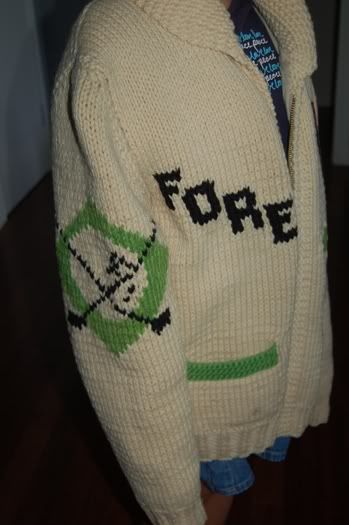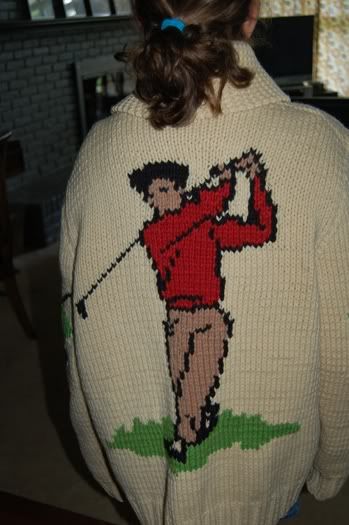 Now that I'm grown up and have become a knitter, I appreciate this part of the sweater most of all!
Thanks so much for your post, Orlando. So many college memories are coming back all from a fabulous golf sweater.