My dad's birthday was Thursday. We had him over last night for dinner to celebrate. I didn't pull out the camera while he was here, so today, I recreated some of the meal for the blog.
DH smoked a pork butt (or pork shoulder as A prefers to call it.) I made
homemade ranch style beans
. S#5 made
Zoe's cole slaw
with Meyer Lemon olive oil. It's not pictured because we ate it all last night because it was so yummy!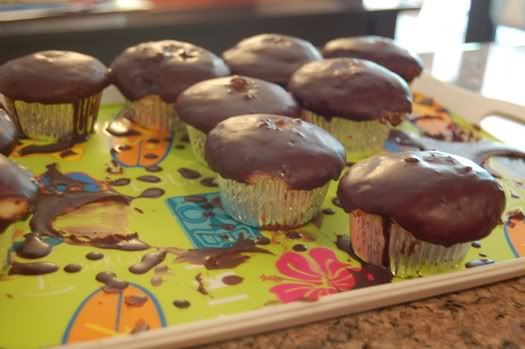 For dessert, it has become traditional to make
boston creme pie cupcakes
. The kids look forward to them, or at least A does. This year I made
cupcakes
from scratch instead of a box mix. While they tasted pretty darn good, they were in the oven a tad bit too long so they were slightly dry. Luckily I was squeezing a bunch of vanilla custard inside them so it was okay. (I should have staged those cupcakes. They are looking rather messy on the tray I used while ganache-ing them.) I also made birthday surprise ice cream. It was vanilla with chopped up chocolate cake (left over from
Wowa's cake
) and extra chocolate ganache (from the cupcakes), a very good combination.
I hope Dad enjoyed his dinner. I know I did.