We've been busy lately. A is slogging through her first finals ever. School is finishing up. I'm working on a new project. I'm struggling with the ramp up and focusing on brain draining stuff again. That three month break was nice but DH likes in the income.
I had a nice Mother's Day on Sunday. DH surprised me with a new
bag
. It is one I looked at back at Christmas time but couldn't bring myself to spend the money. It was a very nice surprise. I got breakfast in bed and spent the afternoon working in the yard. The grandmothers, niece and S#5 came over for dinner. I requested takeout from Fish City Grill. It was yummy and we did not have to wait for a table nor clean the kitchen when we were done. Perfect!
I spent some time this afternoon pulling weeks and checking the garden.
The tomatoes are growing.
This is the same tomato back on
May 1st
.
I've been watching my other tomato plant closely waiting for the teeny tomatoes to grow. I should have looked from the other side because today I found two nicely growing Brandywine.
I spied some baby jalapenos
On Mother's Day we dug up the onions so J could plant some corn. They didn't get very big. I'll have to figure out what I did wrong and try again next year.
In the mean time I need a recipe that uses pearl onion. These would be perfect.
Mom gave me a mandevilla for Mother's Day. I planted it out by my gas meter. Hopefully the pretty plant will distract from the ugly meter.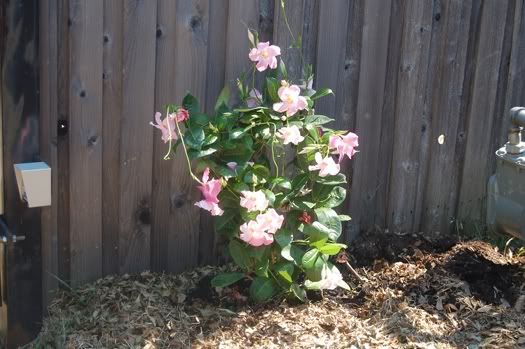 I spotted a monarch butterfly on the butterfly weed.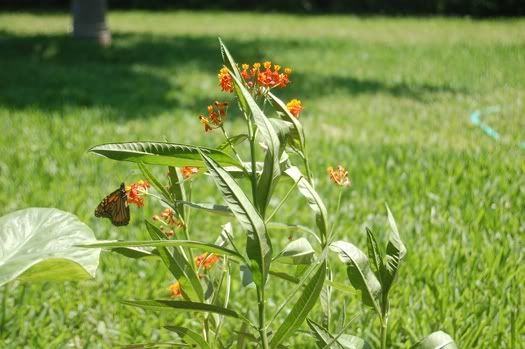 I also found another
lint bug
, aka wooly aphid.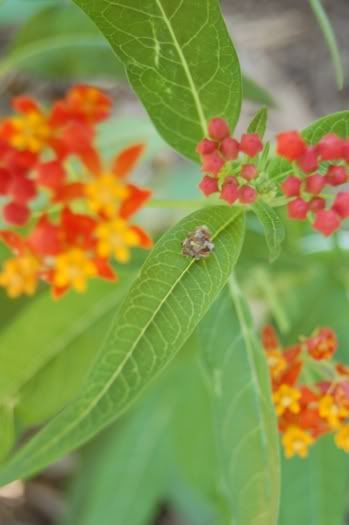 We have a busy weekend ahead. DH is at the Byron Nelson and I have book club tonight. Tomorrow we have B's baseball game and A's ballet recital. Sunday is the 6th grade Mother/Daughter Tea, B's flag football playoff (games 1:00, 3:00, & 5:00), a end of the year Girl Scout Leader meeting and the cousins arrive home. Add into that A's obsessive studying for her finals. It is going to be a crazy weekend.