Day 5 & 6
(Back from a long delay due to an absolutely sh%^$^&^ty week at work. This whole having a real job thing can be a big drain.)
Time to cruise!
We got up in Squamish and enjoyed a bit more of the scenery eating breakfast outside.
We took pictures on a walk around the hotel grounds. Giant slugs that the boys thought were poop and an artsy-fartsy photo of a huge tree.
We headed back into Vancouver to start the cruise. We happened to run into the cousins at the gas station filling up the rental car. The whole getting on the boat thing was much easier than when we went on the Carnival cruise last summer. It seemed only minutes after arriving at the terminal we were on board and the ship had taken off.
Goodbye Vancouver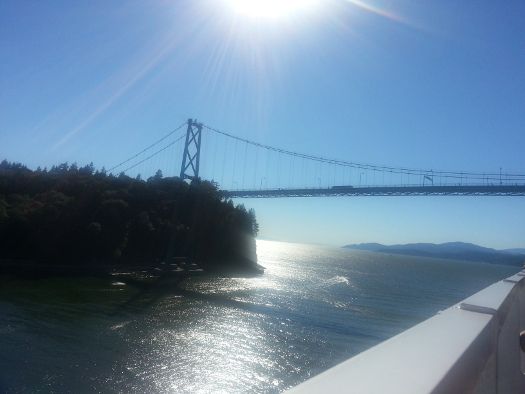 Nice view from the veranda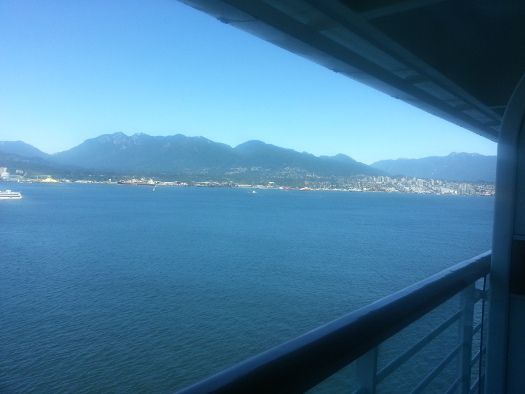 We spent time exploring the ship. B found this Monsters University cutout.
There was a send off party on deck. The kids all got up to dance. J is hiding back there. B rocked the Gangnam Style
We had a lot of fun doing activities on the boat. Trivia, bingo, shows, euchre on deck. We all participated in the Disney 200, making Derby cars out of a carrot and a potato.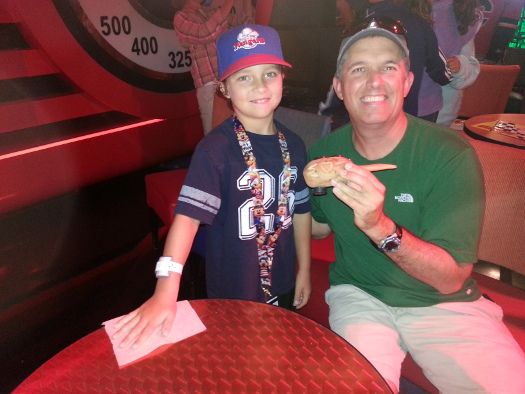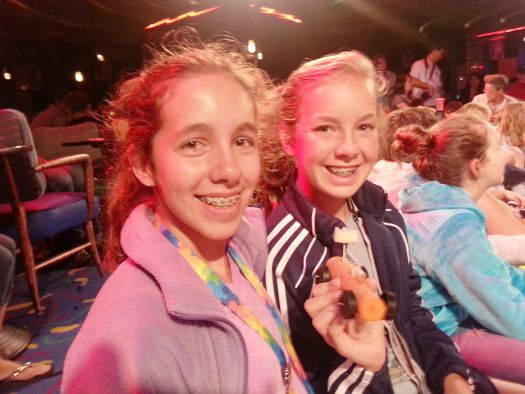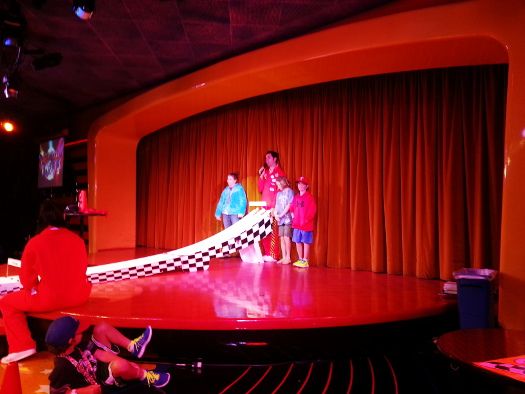 I worked with J & Cousin M and we made the Epcot Express. I cut the potato into the big Epcot ball, made a carrot Mickey head and stuck it on the carrot. We did well. The Epcot Express came in second in the race and got the best design for the car. The kids were suppose to come up with the concept and the parent was suppose to execute it. M outed me as the designer when she was interviewed by the host Speedbump Steven. Dh is still insisting that I am now the derby car designer in the family. I think there is a difference between a carrot & potato car and a wood derby car!
We went the ventriloquist show and cousin C was picked to help out on stage.
He did a great job up there and was very funny. It was a fabulous start to our cruise.