Last fall, I re-organized our
wrapping paper in the hall closet
. I wanted to use the space to hold linens. We're suppose to start renovating the kids' baths so I really needed to finish the closet. Months later, it still looked like this.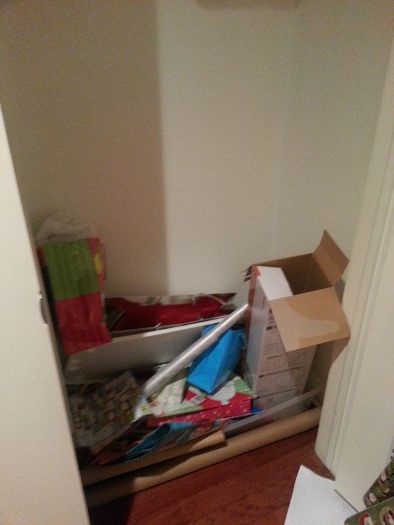 This afternoon I swung by Lowe's and had them cut a couple of shelves. I got the boys to help me paint the shelves.
I shouldn't have done that because we all argued and complained the whole time. It did get done but I didn't have any great motherly moment during the process.
After I debated on how far apart to hang the shelves. I measured and re-measured. I spent time drawing level lines. Finally, I was ready for DH's help. He cut the 1x2 into pieces and hung them on the wall for me.
Closet complete!
I have shelves. I have to wait a day or two for the paint to finish drying. The boys' painting efforts are still a bit tacky. By the time the contractor is ready, my linens will be safe from construction dust in the hall closet.