We planned to start off the day with a trip to the Dallas Zoo to see the new Savannah exhibit. But after the hot day at Cub Scout camp and another hot day of yard work & t-ball & baseball, DH decided he wanted to sleep and go somewhere with air conditioning. So instead of animals we went to see Toy Story 3. It was a cute movie.
Afterward the whole family came over to our house. DH made mess of poppers on his new popper grill. I was busy and didn't get a picture of it in action.
We had barbeque for dinner. It was enjoyed by all.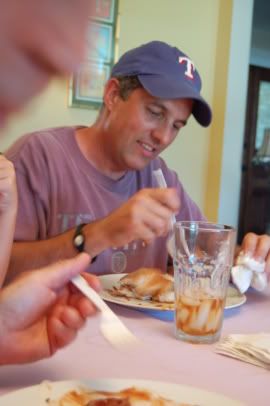 For dessert, strawberry shortcake with homemade vanilla ice cream and fresh whipped cream.
My friend in WA told me to try these. Everyone was glad I did. It was delicious. Yum!