Tomorrow is the last day of t-ball & baseball. The boys have had a fun time and I think DH enjoyed coaching J's team.
B loved absolutely everything about playing t-ball. This was his first team sport and he loved wearing a uniform and going to practice. Even though this summer has been super hot, he hasn't complained once. He only stopped to pee in the outfield once. I'd say that's a good season.
He got his trophy after his game on Monday because his coach is out of town this weekend. He has hardly put it down since he got it. It eats with him, goes in the car with him, plays with him. We have convinced him not to sleep with it.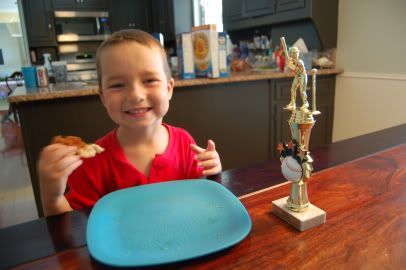 All week he has been begging me to take pictures of him practicing baseball and put them on the blog. We did a mini-photo session yesterday.
Now we just have to wait out the rest of summer until he can join a soccer team.