I pulled some photos from DH's blackberry and decided to make a post of it.
Our last day of school was May 28th. My sweet little J spent the last week of school crying every morning and evening because he knew it was his very last week with Mrs. F as his teacher. He loved loved loved loved her. On movie day, he pulled his chair next to her desk so he could sit next to her. He skipped singing in the choir at mass so he could sit next to her in church one last time. Oh, how he is going to miss her. I couldn't have asked for a better teacher for my J.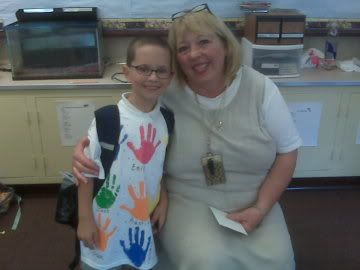 After our trip to the lake and a few days of doing nothing, summer has started. Last week J spent his mornings at golf camp. He had a great time and has a decent swing now. He wanted his coach to sign his bag, but settled for a picture with him instead.
Next week is a busy one. The boys have VBS in the morning and J has cub scout camp in the evening. DH & J went up to the camp site yesterday to help set up. Here is a picture of J with his doppelganger decoration. I didn't think it looked much like him because he isn't wearing his glasses in the picture but DH assures me that it is him.