Friday was B's 7th birthday. We took a long time figuring out what to do for his party. Last year I spent a lot of money on
laser tag
. I didn't want to do that this year. First we tried the "You and Daddy will go to a Cowboys game in Cowboys Stadium" bribe. He hemmed and hawed and actually cried over the decision but decided he really wanted a party. Next we tried, "We'll take 5 of your friends to a movie and yogurt" idea. He thought about it but couldn't narrow the list down to 5 boys. He wanted a party, a real party with lots of boys and a video game truck party. I wasn't going for the video game truck so I had to come up with something good.
I had a few backyard party ideas, but I was afraid after the very bad, cold, sleety weather we had last year. I almost rented the indoor soccer place for a nerf gun war. I was going to make the call the next day but I stayed up long enough to watch the news and the long forecast was in my favor.
Luckily, the forecast held true and it was sunny and in the 70s on Friday afternoon. Perfect for B and 23 or so of his favorite friends to come over for a very messy party.
First on deck, Mentos and Diet Coke explosions.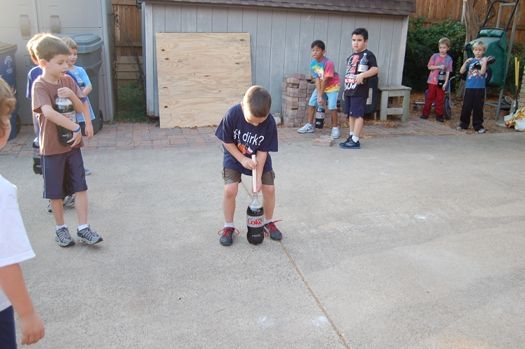 The boys have been begging to do this for several years and was the inspiration for the rest of the party.
Next, a Texas Style Snowball fight. In actuality, it was old socks filled with cornstarch. I attempted to color the cornstarch like in a "
color run
" but it wasn't very effective. It was very messy to make the snowballs. The table and ground and I were covered in cornstarch.
The boys had great fun. The snowball fight lasted longer than I expected and only 3 boys cried.
The last messy event was picking gummy bears out of whipped cream using only your mouth. Hands were allowed only if the bowl stuck to your face.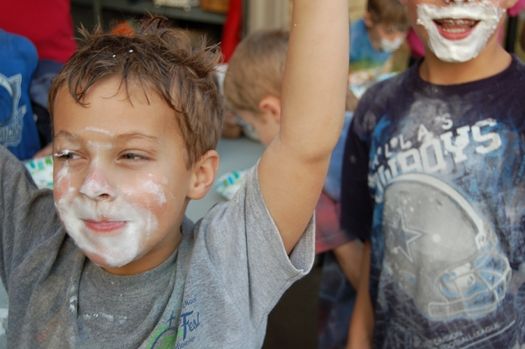 I was going to make a dirt cake but decided to save myself the time and trouble. I bought chocolate cupcakes from Sam's, stuck in a gummy worm and drizzled on ground up oreo. Very easy dirt cupcakes.
After cupcakes we had a good half an hour of just running around the backyard playing. I think that was a let down after the first three activities. The boys kept asking what was next. Maybe I can come up with something new for next year.
It was a very, very, messy, messy party and the best part, B enjoyed every minute of it.