I'm off my game this week. It hasn't been going well. It isn't awful, just lots of little things not going quite right.
Monday - I woke up at 6:15 and realized that I hadn't switched the uniforms to the dryer. It wouldn't be that big of deal except it was band morning. J had to be at school at 6:50. There was no way he was going to have dry uniform in time. I offered for him to go to band in regular clothes and I would bring his uniform. No dice. Lots of tears.
Sunday I went shopping at Target. We need a new duvet cover big time. We have rips in the seams in the one we've been using for umpteen years. I found a "not the best color but fits the budget at $20.00 for a king size on clearance" cover and snatched it up. DH agreed with me that the color wasn't exactly what we were looking for but the price trumped the color.
Monday morning I decided to brush off the laundry incident and put on the brand new duvet cover. After 10 minutes of fussing and stuffing, I discovered that we never purchased a king size duvet. We kept our old queen size one. No wonder the sides of our bed are incredibly bare with the ugly box springs showing.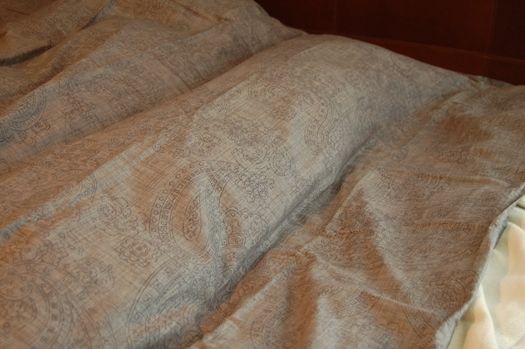 See the extra 12" of fabric on one side. I spent 30 minutes trying to fold it perfectly to get it back in the packaging to return to Target.
Back to laundry. I was folding and looked that collars of the boys shirts. Disgusting.
Ring around the color like an old Wisk commercial. I've sprayed and scrubbed these collars before and those stains are set in. I figured, what the heck, I'm doing laundry, I can test that
pin
I pinned.
Here is the during.
Here is the after.
Not necessarily a fail. Better but not gone. I didn't have any Dawn, so I used the Kirkland's brand that I do have. Maybe that made the difference. I did some more searching and realized, maybe the armpit stain pin wouldn't work on ring around the collar. I'm going to try this
one
next.
With Monday was done, Tuesday should get better. Nope. I forgot my follow-up eye doctor appointment while shopping at Costco with DH. We got lots of meat and food bargains we couldn't pass up and spent too much money. Now I have to reschedule with the eye doctor.
Wednesday was band day again. A super panicked J woke me up. No problem, it was still only 8:30, plenty of time to get to band. I got him there, drove home, picked up the other two, dropped them off at school and drove straight home. At 10:30 I realized I forgot to stop and pick up J's instrument. It wasn't that bad of a fail, he can take it back to class and leave it in the homeroom. The hard part is he plays bass guitar and he has to carry it plus the amp, his music stand, and his bookbag. That's a lot of stuff. I got to school early and helped him carry it all across the street to the car.
Now it is Thursday. I've made it until 9am without any mess-ups. I'm hoping that I have broken my streak and the rest of the week goes better.
At least I did get some knitting in.
Something good done this week.