Last week was S#5's 30th birthday. A week or so before the birthday one of her friends contacted me about having a party for her. She wasn't going out of her way to celebrate and I was going to let her get away with it. Her friend insisted that she wouldn't plan a celebration, so we should instead.
Just as I was starting to plan for the party, YHL announced their Pinterest Challenge on their blog.
I knew what I was going to do. I used Pinterest to help select the menu and decorations. What fun!
#1.
The decor
Clothes Pin Photo Display
I used this
pin
as my inspiration.
I emailed all the sisters and contacted her friends from high school & college through facebook requesting photos. After some issues with sending them to print at the wrong Costco (Frisco is way farther north than West Plano but they both have address on the Parkway), I had a good number of photos. On the advice of a friend I saw in Target, I ran over to the dollar store instead. I grabbed two bags of clothes pins and a clothesline.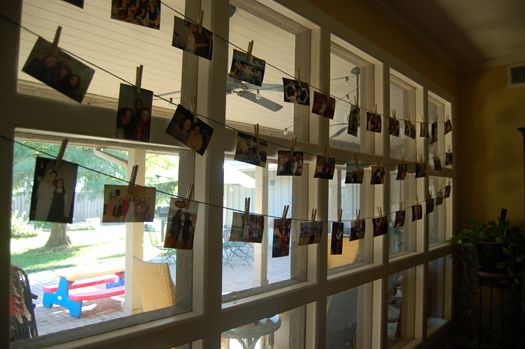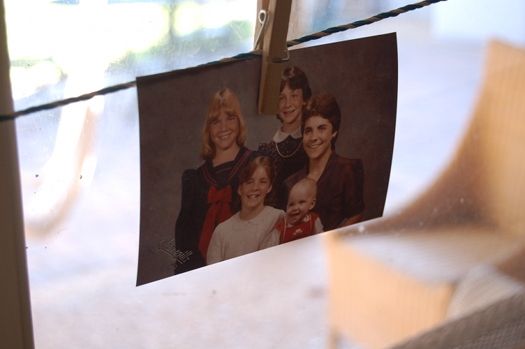 I ended up with an lovely homage to Mims!
#2.
The menu
Since S#5 loves British TV, we decided on Tea Party theme. I poured through my Food & Dessert board trying to find the food I wanted to make. Searched on Google and Pinterest for the perfect foods. Google gave me an idea of what types of food to serve, Pinterest provided the recipes.
Tea Breads
Banana Bread
&
Pumpkin Bread
from Pinterest
My tea breads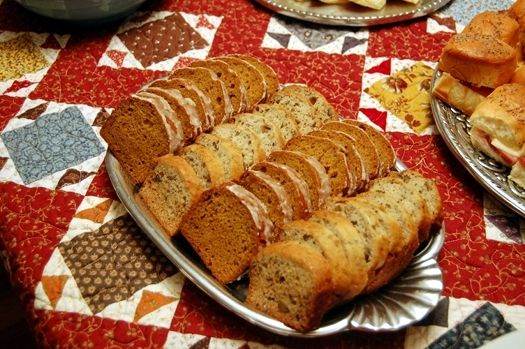 I baked them in mini loaf pans and they were delicious. The pumpkin bread recipe was the best I've ever tried, not heavy or greasy, with a nice light glaze drizzled on top.
Savory Scone
Cheese Scallion Scone
My scones
The dough for the scones was very wet. I cooked them as long as the recipe said and they still weren't done. I cooked them 5 minutes longer and I still wasn't sure. I was afraid if I didn't pull them out they would be rock hard and tough. After cooling they sank down. I imagine they could have taken a few minutes longer in the oven. Despite not being the prettiest scones in the world, they were yummy.
Sandwiches
Cucumber and Arugula
Ham
My sandwiches
Wow, natural light looks so much better. Oh well. The sandwiches were both much better than their picture. Even the ham sliders. I wasn't sure on that recipe since there was mustard in the sauce, but it wasn't a heavy flavor and gave a nice tang. The arugula in the cucumber was devine. Oprah knows what she is talking about.
Savory
Mini Spinach Dip Bread Bowl
My spinach bowls
I pinned this recipe a long time ago and was very excited to try it. It was worth the wait. I think I'll make them again if I go to a Super Bowl Party or even better a Notre Dame Bowl Game party.
Fruit Salad
Mini Chop Fruit Salad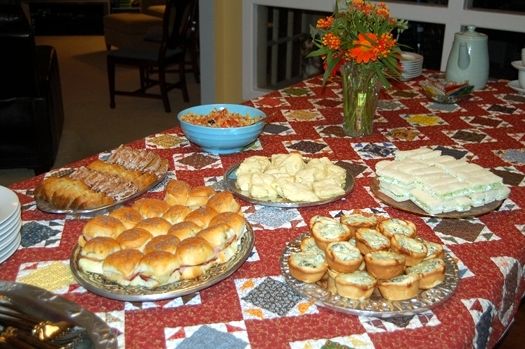 No Pinterest inspiration here and no decent photos of it either. It is in the blue bowl. Mini chop fruit salad is super easy to make, but time consuming. It is just a bowl of fruit from the grocery store chopped up into a very small dice. It is good for those who don't like to eat a whole hunk of green melon. Thanks to S#2 and the Banff Springs (or Chateau Lake Louise?) High Tea for that recipe.
Dessert
Chocolate Mocha Cake
Salted Caramel Cake
My Chocolate Mocha Cake
I planned to make Chocolate Mocha Cake, using the recipe that Mom has been making since S#1 was in high school. Unfortunately, Mom went out of town and didn't answer her phone and I couldn't find the recipe. I decided that I would find a good substitute. The Chocolate Mocha Cake seemed to fit the bill for the cream and the icing. I've made the Martha Stewart Salted Caramel Cake before and I think it is the best chocolate cake recipe ever. I added some espresso powder to the recipe because I remember that Mom's recipe called for some. Over all the cake was good. I followed the first recipe so the center cream was chocolate-y and not as espresso strong as Mom's recipe. I had another piece on Sunday and after all the flavors melding for a few days, it tasted even better.
This was a fun Pinterest Challenge and a marvelous party. I hope S#5 had a great 30th birthday.
Check out the projects from the Pinterest Challenge Hosts,
Sherry
,
Katie
,
Carmel
, &
Sarah