Monday night A got excited. She realized that the next day was Shrove Tuesday and I would be making pancakes for dinner. I made pancakes last year for the first time on Shrove Tuesday. The family thought I was nuts because it was Fat Tuesday not Shrove Tuesday. After a quick
explanation
, A has adopted it and made it another "tradition" that can't be missed. I think she just really likes pancakes.
I also surprised the kids by making a homemade
King's Cake
(minus the purple sugar because I was out of red food coloring.)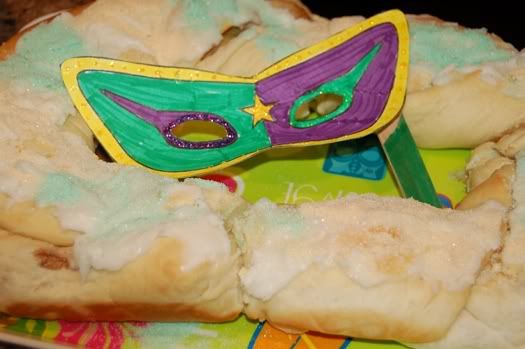 Yum! This was definitely way better than a store bought King's Cake. It reminded me of the King's Cake my Spanish teacher would order from New Orleans when I was in high school.
Yesterday, I almost forgot Ash Wednesday. I saw a woman in the gym with ashes on her forehead and remembered. I made the mass at noon and went to run errands. I had to order a flag football shirt for B (long story, but basically I sold my son and my sanity to the flag football team for a gin & tonic at the school auction last weekend) and was going to drive right past Sprinkles. I, at a stop light, pulled out my phone and checked Sprinkles twitter feed. Sure enough, they were giving away dark chocolate cupcakes for Washington's Birthday. Lucky Me! I'm never over by Sprinkles when they are giving away flavors I like.
Except that it was Ash Wednesday. I contemplated giving up
Diet Coke
for
Lent
again
. After going a day without it last weekend, I ended up with a horrible headache and was horribly cranky. DH told me not to drive the family mad with Diet Coke withdrawal.
I gave up sweets instead. No Sprinkles free cupcake for me.