Over the weekend I dragged all the kids to World Market to look for new curtains. I went to see some silver dupioni silk ones that I saw in the internet. When I got there I found something else that made me think again. Being me that I am, I bought both.
I'm glad I took a chance because when I got home the silver ones looked blah with the huge grey fireplace and light grey walls. Really blah. I tend toward simplicity and the other curtains were patterned so I wasn't sure. Once they were hung up, I really liked them. Surprisingly, so did DH.


I like how they pick up the yellow from the adjacent dining room




I'm not thrilled with is the length.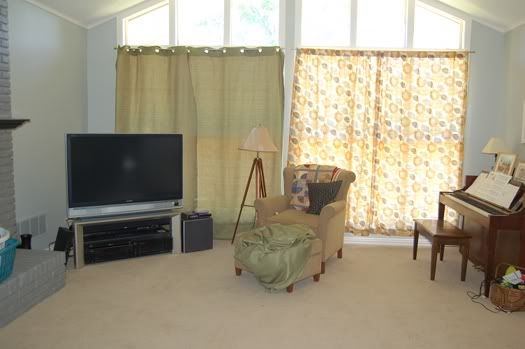 You can see the old green curtains went to the floor and the new flowery ones stop at the bottom of the window. They look like high water pants to me. Not good but, don't worry, I can take care of that. I kept one of the silver curtains. I'm going to sew a 6 inch panel onto the bottom of the curtains and everything will be good again.