I have been annoyed by the mismatching frames that DH kept putting on the mantel after I took them down. Not that I need everything matchy-matchy but the frames really did not go together at all.
I knew I needed to do something with the pictures to satisfy us both.
My inspiration came from the Young House Love blog. They filled their hallway with
white frames
. We've had a large white framed picture of the kids over the piano for years. I decided to add to it, but I needed to do it on a budget. First I culled through framed photos that have been in a box since we sold our last house. I printed some pictures from the
photo session
we did back in November. I got 5 pictures from Costco for less than $4.00. I made a trip to the dollar store to fill in frames and got a bottle of spray paint from Lowe's.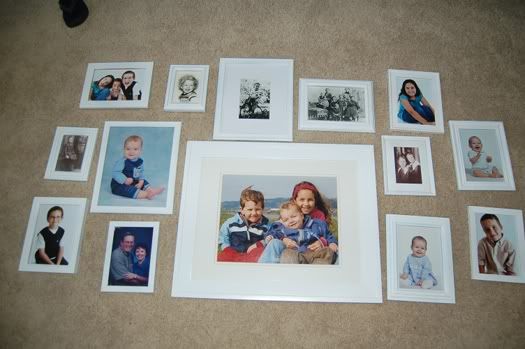 I used the foil to make impressions of the hangers on the back of the frames. I used the nail for the large photo as my starting off point. It worked great with the frames above and to the right of the big one. Of course, one of my dollar store frames completely broke. (I know, that's what I get for shopping for frames at the dollar store!) That threw the whole left side placement off. I winged it and it turned out okay. I keep looking at it thinking I need to move a few of them, but then the wall will look like swiss cheese.
A few hours and $15.00 later, I have a gallery of family photos over our piano.
I've got two more projects planned. Some day I will be done with this room makeover.