I'm a room mom for J's 2nd grade class. So far it hasn't been bad at all. We've got a couple of moms in the classroom who volunteer a lot which really helps. Normally each room mom plans a holiday party. Since there are only 3 parties, I volunteered to do the class auction project for the school gala instead of planning a party.
DH wasn't happy. At all. He thinks I put too much time & work into them. He's right, but if I'm going to do something, I'm going to do my very best.
I came up with what I thought was a good project. I made checkerboards with the squares decorated with the kids' pictures.
For the last 3 weeks I've spent a lot of my spare time working on the project. I had each kid draw a self portrait. I had to scan all the pictures in and then photoshop (well, I use gimp because I won't pay for photoshop) the pencil to black. I printed them on blue & white paper and mod podged them onto a checkerboard.
I wasn't sure how it would be while I was making it. Luckily, the boards ended up terrific. I was super excited with how they turned out.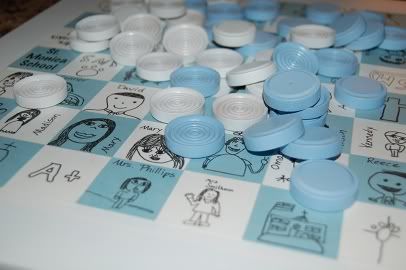 However, I was worried about the durability of it. Today I bought some plexiglass to cover the boards. I convinced DH to help me attach them. That part didn't go so well. The screws were cheap and broke off. While DH tried to remove them, one of the plexiglass sheets broke. DH was not in a great mood. I drove back to the store to buy some more and missed the store closing by minutes. Ugh.
I'll try again tomorrow. DH says he will help me again, but only if I swear to never volunteer for a class auction project again. I think he's actually going to hold me to that one.