Post cruise S#2 went to Houston to drop off BIL#2 and pick up our niece from S#4. M got to spent a few days hanging out in Dallas with her cousins. S#2 & S#4 decided to meet half way to drop her back off. B was busy spending the day with MIL, so A & J & I decided to join them for the ride.
Don't they look excited for a road trip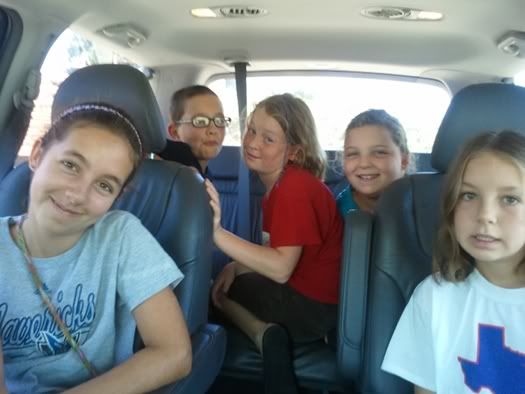 We made it to Woody's in Centerville



Kids waiting for food



chopped beef sandwich



bacon wrapped quail (yum!)



Goodbye to S#4 & family!

Did you notice that the building changed. There is a Woody's on both sides of the highway. We met at the southbound side. It is smaller and all the seating was taken, so we drove across the highway to the northbound side and ate over there. It was a much bigger place with lots of stuff to buy. We left with bread, venison sticks, pie slices and a cream cheese kolache. It was all good. We'll definitely remember this stop on our next trip to Houston/Galveston/College Station.