I wasn't as good about planning day trips this summer. Monday is meet the teacher, Tuesday classes start, so Friday was our last day of summer, our last chance to take off for the day.
I knew were I wanted to go on the day trip. Last year at the State Fair, the
Nocona company
was in one of the buildings giving out keychains and mentioned that they give factory tours. It is located about 2 hours northeast of Dallas so I had to come up with something else to do the rest of the day. I spent an evening researching what to do and found there isn't much to do in that part of Texas. There are no other tours, no great landmarks, no state parks with interesting tours. It is pretty boring.
My mother and her quilting friends helped out. You see there are 254 counties in the state of Texas. Thank heavens they don't make us memorize them all like make school kids in Indiana. There are people out there, including my mother's quilting friends, who make trips out of
visiting county courthouses
, with the goal of
visiting all of them
. Mom started going on courthouse/quilt store trips with some of her quilting friends. I started searching on courthouses and came up with a trip.
Our trip to Nacona or how our mother tortures us by making us pose for photos.
First stop, the Fire Station Museum in Denton, Tx. This museum was tiny. It was not much bigger than our kitchen, but it had some cool stuff.
The posing begins



Nozzles, should have crop the silver suit out, oh well



A piece from the World Trade Center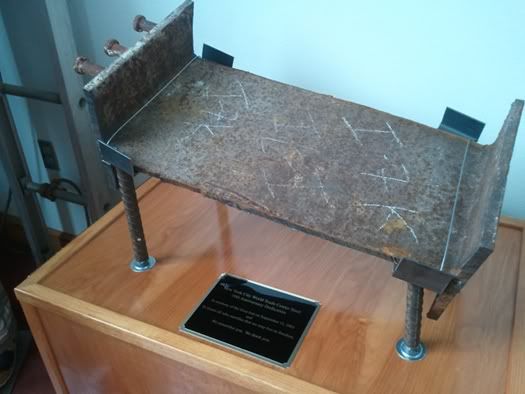 B wanted a picture of the scary mask.

Onto the Denton County Courthouse. There was a small museum inside, but they were in the middle of moving exhibits so there wasn't much to see. The boys liked the cases of rifles and guns. I liked the pecan art.
Pecan boy scout and statue of liberty



Posing with the rest of the pecan art

From Denton we drove west to Decatur. I found the
Petrified Wood Gas Station
on the internet. It was once a working gas station and motel. Now there is the
Whistle Stop Cafe
in one of the building.
The station



Making J cry because the sun was so bright



petrified wood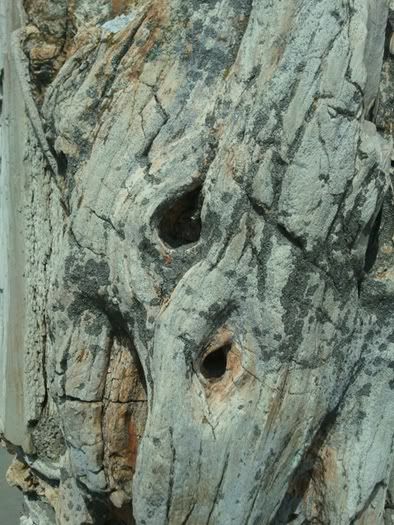 The cafe was quaint. The food was fine, could have used more salt, everything was a little bland. The pies looked wonderful, but we decided to save room for later.
From the Whistle Stop Cafe, we drove into downtown Decatur to the Wise County Courthouse. The building was nice but we didn't go inside.
Another posed picture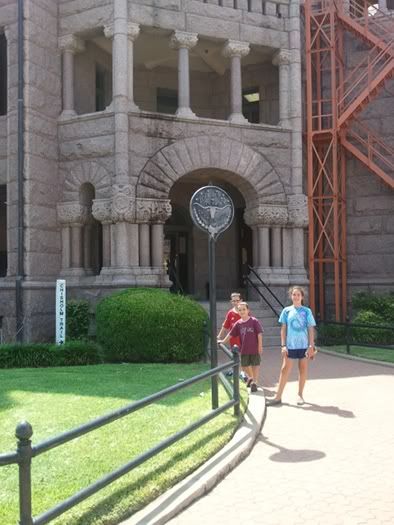 Chisholm Trail Sign



The courthouse at an angle

From Decatur we drove to Nacona. We got there just in time for the tour. There was a large group of 16, another group of 5 and our group of 4. One man took the large group through. We waiting in the lobby with Bobby Storey waiting to take our tour. He is the grandson of the founder of the company and he ran the company for 30 or so years. After lots of waiting, the other tour came out. The man realized that his father hadn't started our tour. He meant for him to give the other tour a 10 minute head start. At least he told some interesting stories. Unfortunately, he was also a very soft spoken man so once we started the tour, it was almost impossible to hear anything he said. It was interesting to see the baseball gloves being made.
J with a $200.00 baseball glove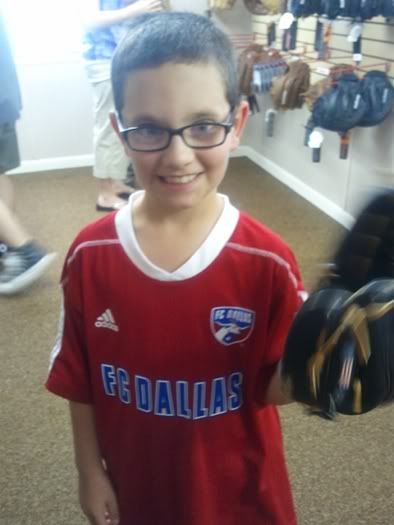 Mr. Storey rubbing the Indian head for good luck



The kids posing (only slightly smiling because the father of the other group basically made them stand for a picture.)



Nocona banner

After the tour, it was only 3:00. The next thing I had planned was dinner, but it wasn't close to dinner time. What else could we do but visit another courthouse? We were going to drive through Gainesville on our way home, so we made a detour to the Cooke County Courthouse. The courthouse wasn't anything special. We walked by and went to the Morton Museum down the street. It was a nice little museum. The docent shuffled through and told us about every piece. She seemed to know everyone and what family had donated each item to the museum. She was very happy to have someone stop in. It was small because even with the guided tour, we were only there for 20 minutes and that included bathroom stops by the boys.
the courthouse



the museum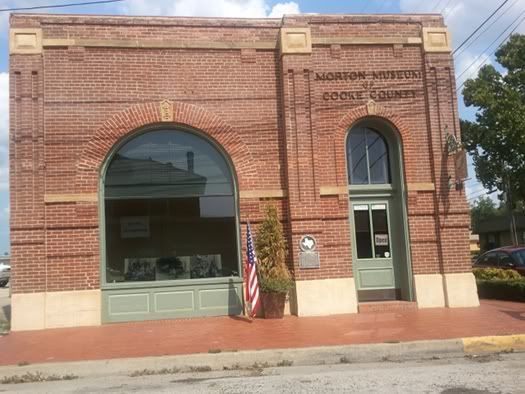 I couldn't bribe the kids to pose for pictures at this point. We took a driving tour of the Victorian homes of Gainesville and then headed to dinner at
Hard Eight BBQ
in Coppell.

I threatened them to make them pose in front


the pit



that's a lot of meat!



A!



J!



B!



dinner done



no we didn't eat it all, the leftovers

After dinner, we stopped at Dairy Queen for dip cones.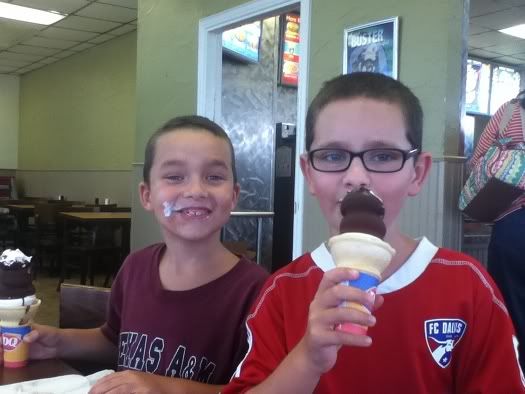 While eating our ice cream cones, we realized that on our first day trip last summer, we ate at Hard Eight in Stephenville and went to Dairy Queen on the way home. The kids have decided that it needs to be a tradition. It seems that Hard Eight has opened a location in Roanoke, so I guess our next day trip needs to head that way.