We decided to sign B up for swim team this year. We made
A & J
do it a few years ago but then I decided to be selfish and sleep in during the summer instead of getting up for 8am swim practice. I debated doing it with B this year because I have A in camp at one school and J in camp at another school and they both have to be there by 9am. I wasn't sure that I could get B to practice and get the other two where they needed to be in time. DH stepped in to help with the swim team. He takes B while I handle the other two.
B is a different child than A & J. I made them go to all the practices but they only swam in one meet because the coaches talked them into it. B was all over swimming fast and getting ribbons and donuts. Then we had conflict. He also signed up to play indoor soccer, which ended up having practices on Thursday nights at the same time as the swim meets. We compromised with going to every other.
Tonight was the first swim meet. As swim meets go, it started off pretty awful. &They wanted all the kids there by 4:45 so they could take a team photo. I had to handle camp pick up for the other two and run some errands. DH & B went to the pool early so they could get a table in shade. We showed up at 5:45 with pizza for dinner. The meet was suppose to start at 6:00. Time went on and on and on. Soon it was 6:30 and then 6:45. Finally someone told me that the computer had messed and it had put every kid in every race. It was after 7:00 before they fixed everything. It was almost 7:30 before they started the meet. They decided to cut all relays and IMs in order to save time. That was nice because we were down to two races.
Once the meet got underway, all was good. B was excited and swam well.
Waiting for the meet to start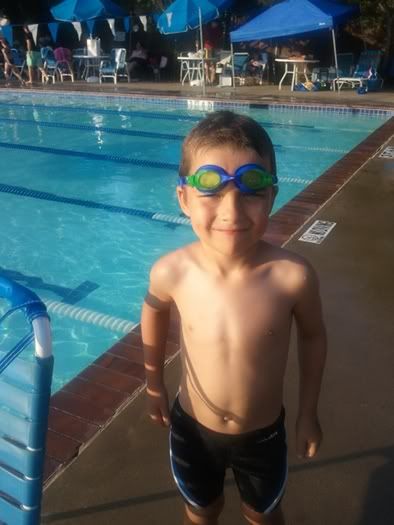 A little crooked on backstroke



Jumping in for freestyle



And he's done!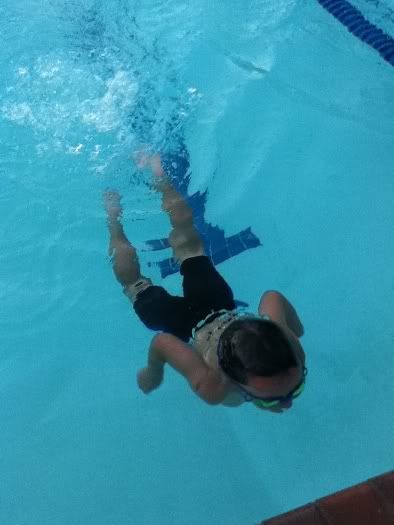 Best part about only one kid in the 5-6 year class swimming on swim team, we were done early. We left after his second race and were home by 8:30.
B had a great time at the meet. He's excited about the next one because he's going to "swim faster and better and win!" That's my B.