Last weekend was BooksmART, a second annual event at the DMA (
Dallas Museum of Art
) featuring authors of children's books. Last year we were incredibly busy and couldn't make it. This year I had committed myself to decorating for VBS at the church so we weren't going to make it again.
Luckily for A, last weekend S#2 was not busy. S#2 is a children's librarian and she was very excited to go and she was very excited to take A, because she knows how much A loves to read.
The lineup for BooksmART was amazing. They had Jack Gantos, 2012 Newbery Award winner, Chris Raschka, 2012 Caldecott Award winner, Rebecca Stead, 2010 Newbery Award winner, and more!
The day started with a scavenger hunt.
Go Van Gogh!



Finally found the clock, not the grandfather clock



posing like this painting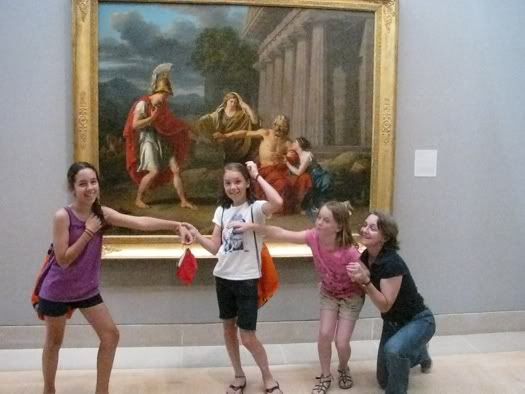 Then they got to meet some authors and get autographs.
Babymouse authors - Jennifer & Matthew Holm



When You Reach Me - Rebecca Stead

Then they got to listen to some authors speak.
Chris Raschka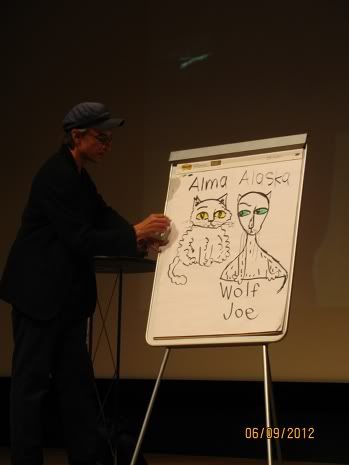 A helping act out A Ball for Daisy



Jack Gantos, author of Dead End in Norvelt

They all said that Jack Gantos was funny. I'm disappointed that we read his book from the library. I wish we owned it and could have had it signed. Look at how he signed books for
Mrs Larremore
!
I'm disappointed that I missed such a good day. I'll have to check the DMA calendar next year and make sure I keep that day free.