A's volleyball team made the playoffs. The game was scheduled Wed night at 6:30 in BFE. Really far south and east, across the city in the middle of rush hour. Fun! In addition to the playoff game we had an appt for J at 4 and a rescheduled soccer game for B at 5:30. Originally the Rangers were suppose to play game 6 of the world series. Thankfully it rained in St. Louis and helped me out. DH took A to the game and didn't miss the any of the playoffs.
They won the game and stopped at La Madeline for dinner. A had a great night. DH had a croque monsieur for dinner. One small bite and A was totally in love.
So much in love that she requested it for dinner last night. I said sure and she could help make it.
With sauce for A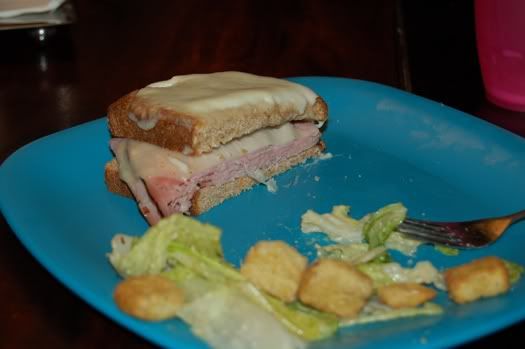 Without sauce for the boys

A handled the salad and making some of the sandwiches. I handled the sauce. It was delicious. I told A that next time she needed to make the bechamel herself.
Her volleyball team plays again on Tuesday night. They play St. Marks, the first team they ever played, the team that beat them in the preseason tournament and went on to win the whole thing, the team that is 7-0 for the season. Doesn't look for got D2-White, but it could happen. Go Bearcats!