We had a quiet Christmas this year. My side of the family was gone. S#1 & S#4 stayed home. Everyone else joined S#2 at her condo in Kimberley for some skiing over Christmas. It was a big change from the usual noise & chaos of packing in time with the cousins, but it was nice.

Christmas Eve we went to Mass & only took up half a pew instead of the usual two.



Christmas morning brought great excitement for Santa presents.



The unwrapping of the rest of the presents commenced.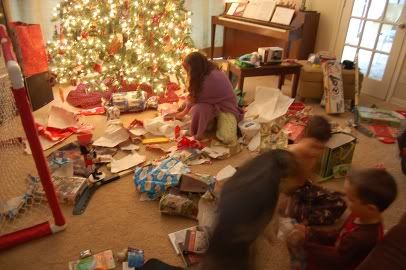 And then it was over again.

The pleasant happy feelings of Christmas lasted a little while until B got very upset. It seems that he really really wanted a drum set and it didn't matter that Santa brought the street hockey set and the nutcracker he also asked for, what he really wanted was a drum set and he wanted the hockey stick that J got not the ones that came with the hockey set and the ball that came with the hockey set was pink and pink is a dumbo color and Santa is stupid and it isn't fair. Needless to say he was thoroughly upset. I was feeling awfully guilty. There was no way I was going to get a drum set. I shouldn't have even let him put it on his Christmas list. It didn't matter that every time he mentioned it I told him that Santa doesn't bring everything we want. He wasn't listening.
He eventually calmed down. We went to the ILs and he got to visit with his cousin. By the end of the night he was okay and said that he loved Santa because he brings up presents every Christmas, but next year he was going to be super good so he could get what he really wanted. I hope he's over the drums by then.