It was not a simple first day of school this year. Three kids in three difference schools lead to a week of back to school activities.
B was up first on Monday.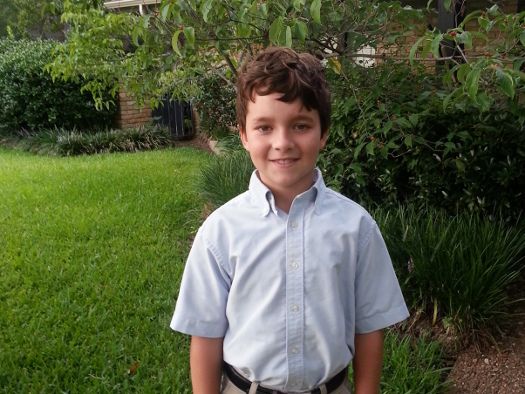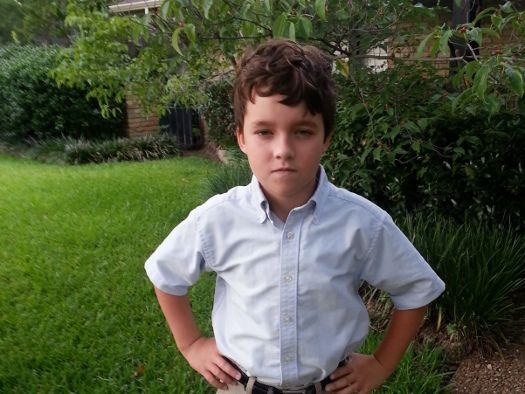 B is 1) standing nicely smiling for Mom, 2) being excited about third grade, and 3) showing how he really feels about the end of summer.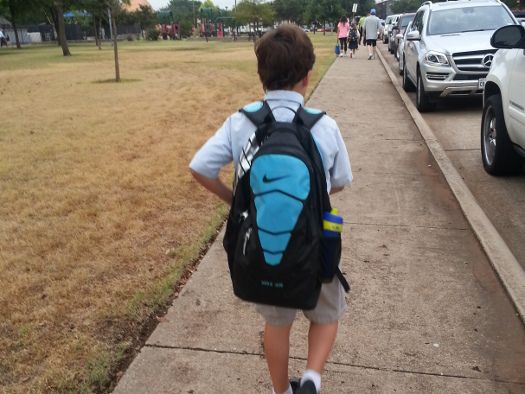 It was very strange walking him into class all by himself, but I think he kind of liked it. His teacher wasn't in the classroom yet, so I didn't get that picture. Another mom told the boys to hold up three fingers for third grade. Of course B took it to the extreme.
Tuesday was Opening Ceremonies at J's new school.
I neglected to take pictures of J by himself. I did take pictures when he tried on his dress uniform on Monday night.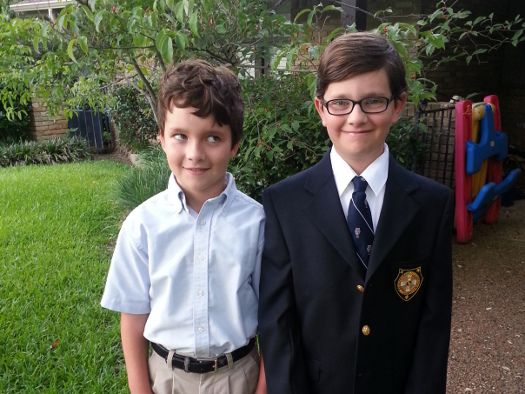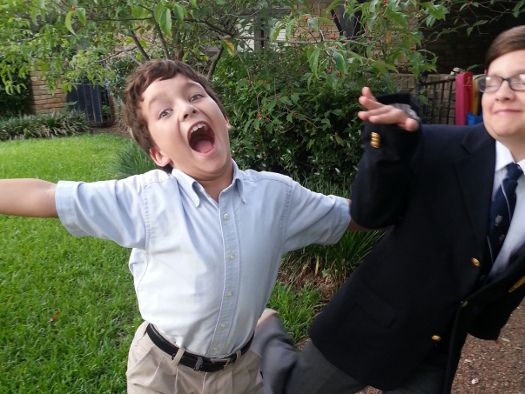 Here are pictures of the boys together. Of course they had to be goofy. The repeated eye-rolling led into all out back to school craziness.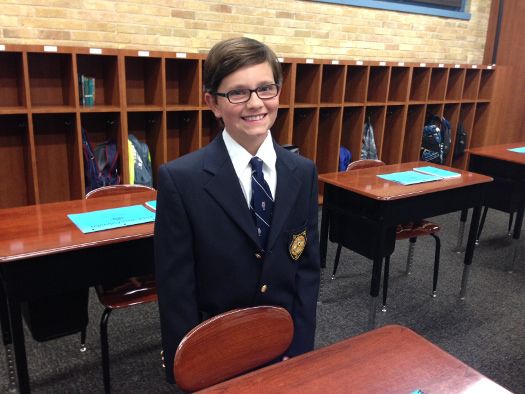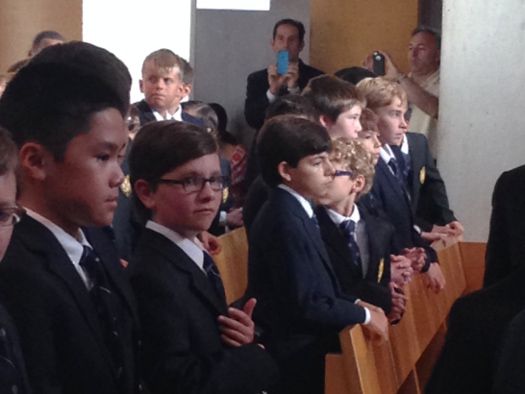 DH took J to his first day at his new school, Cistercian. I thought he'd be more nervous, but he wasn't. Hopefully that is a sign of a good year to come. They had Opening Ceremony (which was just a mass with all the boys in the blazers & dress pants) and then eye & hearing check, pictures, and all the other first day of school necessities.
Thursday was A's first day of Freshman Orientation at Ursuline.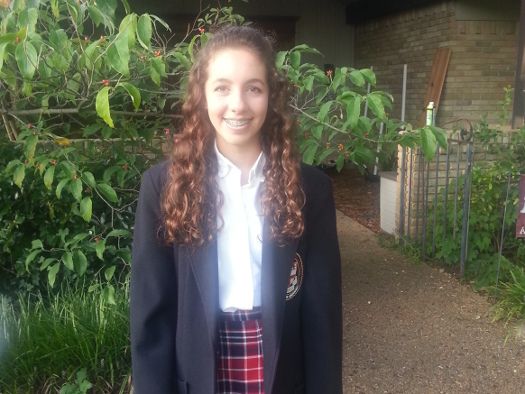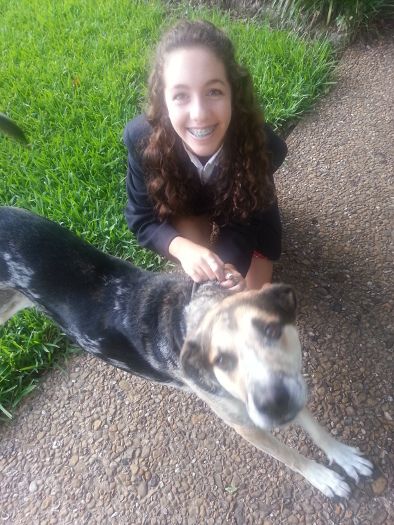 She missed taking pictures with her brothers so she tried to get the dog to stand in. It didn't really work.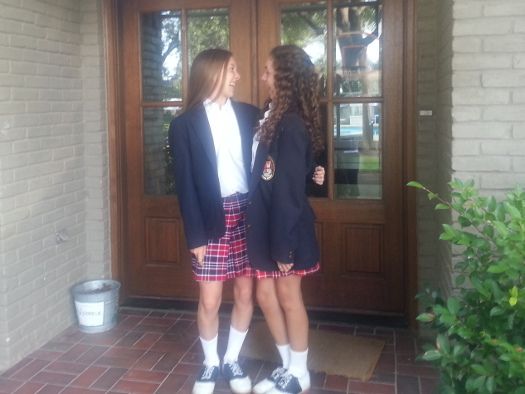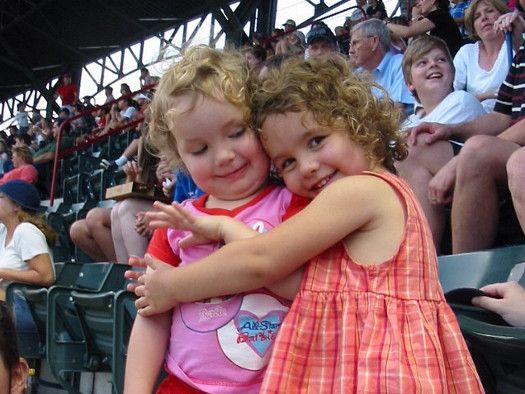 We picked up cousin E. They smiled prettily for the first couple of pictures and then turned as goofy as the boys. I think they were attempting to recreate the past pciture, they need to work on the pose!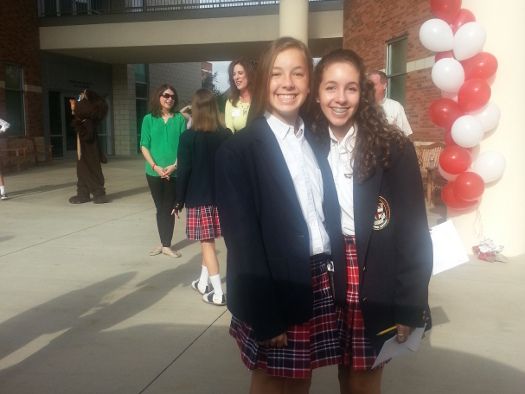 Carpool line to drop them off took forever! All the parents were getting out of the car taking pictures of the President and Principal of UA shaking hands with the new freshmen. I told them I would skip it and just took a picture out the window of the car. I still can't believe the twin cousins are now high school freshmen. It was just a minute ago they were little girls!
A still has her first day of classes on Monday. I'm working on convincing her to be ready early enough to get a picture of all three kids in uniform. We'll see if teenager sleepiness overrules family photo time.