It was a busy week. Halloween on Wednesday and since the kids go to Catholic School, we also had All Saints Day on Thursday. I had three halloween costumes, two saint costumes, and the first grade Halloween party to help plan (or execute because I did very little planning.)
Halloween party went well. I made marshmallow eyeballs for the mummy milk. The craft went over well.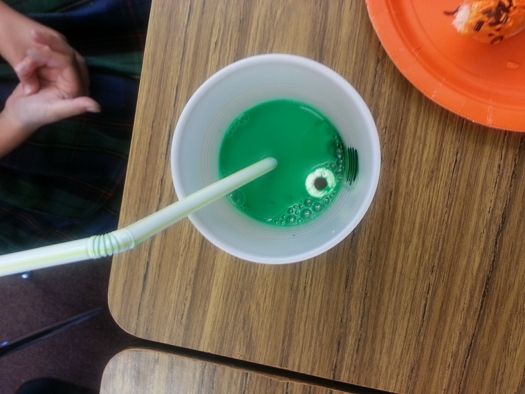 We've been super busy. We barely had time to carve pumpkins. Wednesday after school, the kids came home to pumpkins with the tops already cut out and seeds and goop mostly cleaned out. Thanks Dad! That was easy. I only cut about half the faces this year. A did her whole pumpkin. I helped J with his eyes. B did his eyes and some of his mouth and then got bored.
Pretty good looking pumpkins.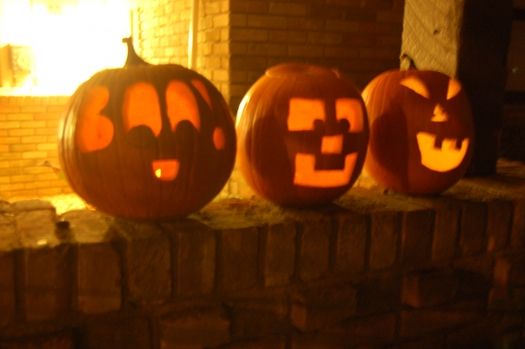 Costumes weren't too bad. A and I went shopping with friends at the Joann's 70% clearance sale. She got fairy wings and cobbled together a "Rainbow Fairy" costume.
J tried to be a Muggle. I told him kids who don't wear costumes get the yucky candy, even if he has an explanation for the non-costume. He quickly came up with a "Hobo" costume.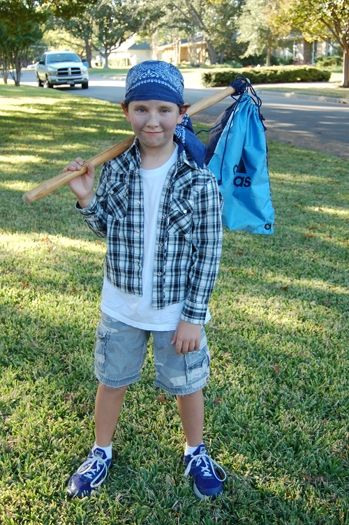 We found a Captain America mask and shield on sale at Target. I painted a $3.00 t-shirt also from Target. B had issues with this costume. He wanted matching blue pants. He wanted the painted stripes to go all the way around the torso. He wanted stripes on the sleeves and red gloves. I told him it was a costume and it wasn't a perfect match and it would be fine. Luckily, he is getting older and slightly more reasonable and he accepted the costume without and fight.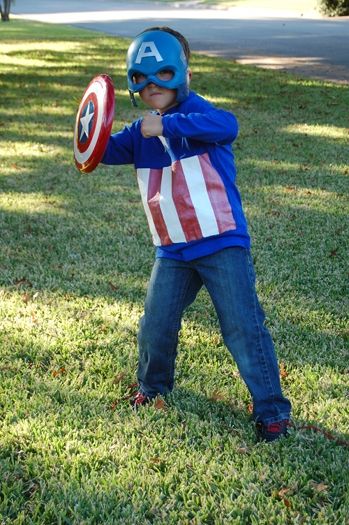 Don't they look cute?
DH & kids played with his new i-phone panoramic photo options.

Once Halloween costumes were done, I had to handle saint costumes. I tried to talk them into being the same saint and letting me make one costume, J wouldn't budge. He picked St. Peter Claver, a Jesuit priest. Not bad for pinning, guessing and sewing.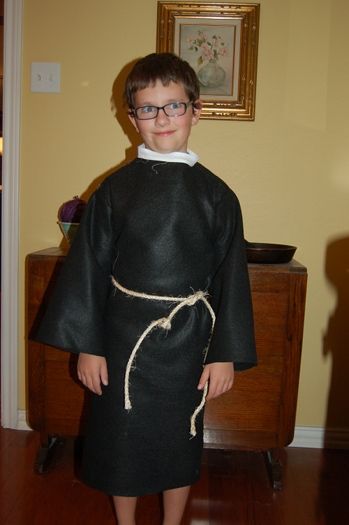 B was St. Peter the Apostle. I went super easy, an old pillowcase with head and arm holes and a brown felt cloak. I had to talk B out of the green cloak that was on the Holy Card he had. I had brown felt, I didn't have green felt. He made do. I did fashion a key out of cardboard and duct tape.
Pictures didn't go so well. I took the shot too early in the parade. I got stuck in conversation after mass and missed the picture taking opportunity in the classroom. I tried to get him to stand still for a second to let me take the picture, it didn't happen.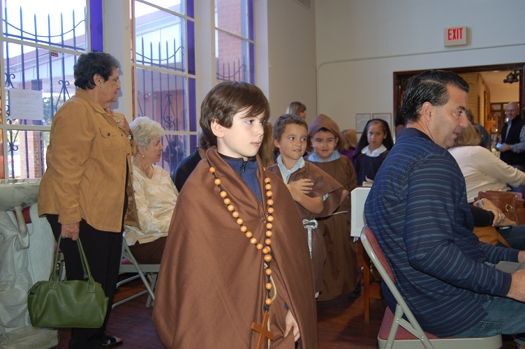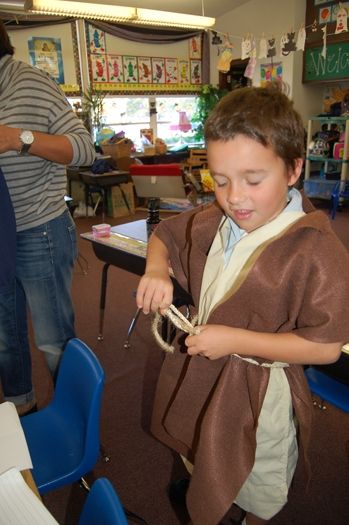 It was a good holiday, now I have to start planning for Thanksgiving.