One week late.
I had planned on making art. Well, I made art. I planned on framing the art. Then I didn't like the frames I bought and spring break happened and we decided to go to Galveston. Art didn't get finished.
So here is my practical Pinterest Challenge. I have a cast iron pan. I loved cooking in that pan until DH did dishes and scrubbed the seasoning out and let it air dry. It got all rusty and nasty. I've wanted to re-do the seasoning for a long time. I pinned a
how to clean your cast iron pan
on my
to-do board
34 weeks ago so it really has been a long time.
I finally did it.
I ended up using
the original link
, plus
two
more
for reference.
Before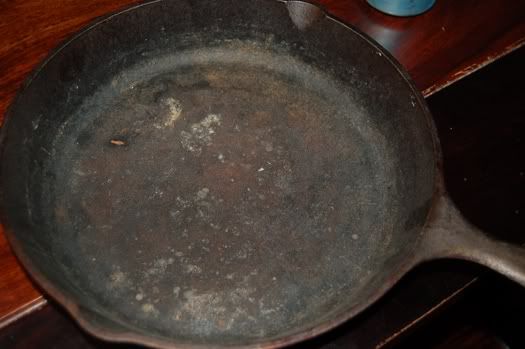 Scrubbing with salt and foil (I couldn't find and hate the feel of steel wool)



Covered the pot with coconut oil (I was out of bacon grease, lard and crisco)



After 3 hours of baking in the oven

Much prettier. First, I need to fry up some bacon or something equally greasy to set my seasoning. Second, I need to teach DH exactly how (or how not) to clean the pan or I have to dishes on nights I use it.
I'm a week too late to link up to the Pinterest Challenge on
YHL
. Darn, I liked the bump in traffic I got with
my last challenge
. At least I have an almost new again pan.