We're on Spring Break this week. We don't have much going on but that is nice.
Saturday, A & I went to the Dallas Quilt Show to help Wowa out. She is in charge of tickets for the whole show so I helped take tickets and hand out programs. A helped with the mini quilt auction, holding quilts up for the bidding audience. She wasn't too thrilled with her lesson in giving and lenten sacrifice. At least that was what I told her after I told her that I didn't want to listen to her whining anymore as we left. The boys hung out at Grandma and PaPa's house with DH.
Sunday was a big day for the boys. They headed out to the season opener for
FC Dallas
with friends. They had a great time and came home with new hats, new jerseys & free
vuvuzelas
.
I'm so glad I didn't go to the game. I would have died from the noise. I'm discovering the joy of a 3 vuvuzela household (they brought one home for A) and take them away every time they blow one inside the house. Yesterday, I came out of room fuming ready to grab another one form B only to discover that he actually was outside. They are that loud!
After the game we made plans to meet the other family out for dinner. We had a half hour to kill so we spent it outside. It had rained for 4 days straight, but the sun finally come out. I did some weeding, DH drank a beer and the boys played basketball. Right before we had to leave, I heard B cry and J call out, "Are you okay?", which meant B had hurt himself and J wasn't involved, so I ran. (If J had ignored the cry and kept playing, pretending like nothing happened, generally means just just elbowed B in the gut to get him out of the way of his shot.) B caught a bad bounce right in the mouth and was bleeding.
Here is the result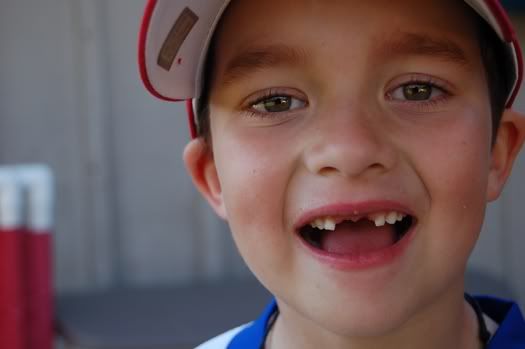 Another front tooth gone. Luckily it was already loose. He got another $5.00 from the tooth fairy and is walking around lisping all over the place. I feel like I'm in the episode of the Brady Bunch where Cindy has to go to speech therapy. I keep wanting to tell him to quit talking like a baby (a bad habit lately) and then realize he really can't help it. I know, Bad Mom!