I read the
Young House Love
blog. Well, sometimes I read, sometimes I just look at the pictures. They do such cool house projects. The best part is they decide to do something and then they do it and then they finish it. That's my problem. I get some great ideas and I start something, it's the finishing that causes the problems.
Last week, they posted a Pinterest Challenge. You find something on Pinterest you like, you make it and then you blog it. This was just the motivation I needed to get moving.
About a year ago, I also started hanging out on Pinterest. There were so many pictures on there that made me was to make/do/create something. So much so, I actually started two projects, started being the key word. Now this weekend, I finished them.
Pinterest Challenge #1
I loved some of the cool embroidery projects I found on Pinterest. I didn't to make something traditional or cutesy. I wanted to make something abstract, something like
this
.
I came up with the idea of embroidering my fingerprint. I used markers to copy my fingerprints, picked one I liked (left index finger) and blew it up on our copier. I went all the way back to art class with Sr. Joseph Marie and drew a grid on the fingerprint and grid on fabric (bought off the sale rack at JoAnn's for $1.00.) I then copied the image to the fabric and set to chain-stitching.
I wasn't sure how to frame it and I knew I didn't want to spend a lot of money. I came up with foam core board from the $1.00. I used spray adhesive to glue them in a stack. I tried taping the fabric to the foam core board, but that was a failure. The tape kept peeling off. I propped it up against the fireplace and left it.
The Pinterest Challenge made me pick it up after two months of sitting. I trimmed the fabric better and used the spray adhesive to make it stick and hung it up with those command strip velcro picture hangers. I think it looks fabulous. And not bad for less $5.00 artwork.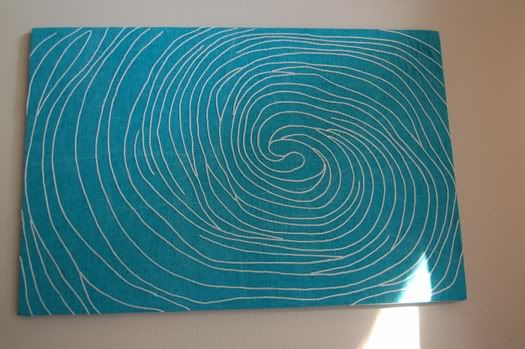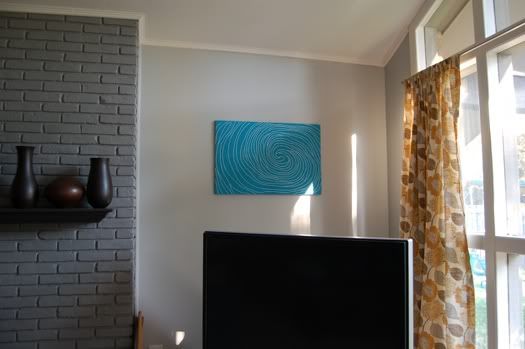 Pinterest Challenge #2
DH likes to collect tree stumps. He picks them up from bulk trash piles and puts them out by our fire pit. I didn't think much of them until I saw tree stump tables.
I decided that I could make
one
of those. I picked a stump and, using a chisel and hammer, I knocked off some of the bark. I had to leave it outside to dry out more. On and off all summer long, I would hack at the tree stump a bit. Friday I finally bit the bullet and decided that it was as good as it would get. I stained it, decided I didn't like the top and painted it, decided I didn't like that paint and painted it again, added legs (very difficult with the slope of the bottom) and poly'd it to finish it off.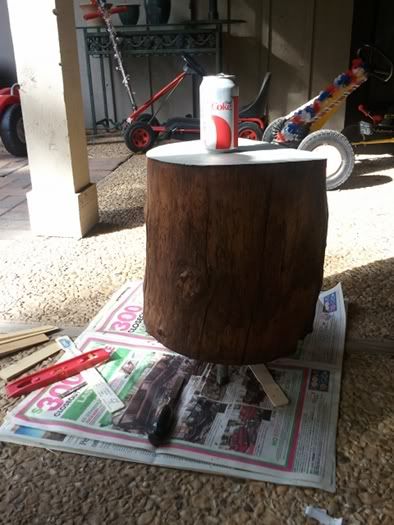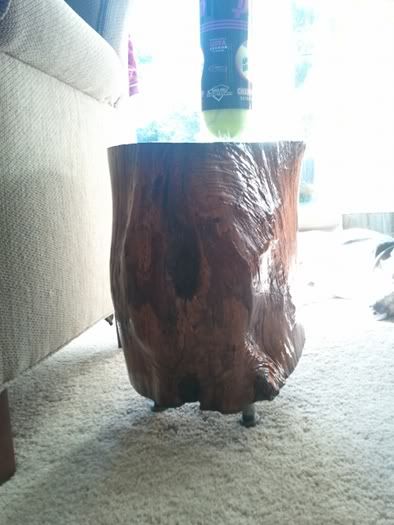 Despite the legs being a little short, I love my tree stump table. And it holds a diet coke (or tennis balls) without falling off. Project done!
Here are links back to the original Challenge posts.
Katie
,
Sherry
,
Erin
&
Ana