I've been knitting a lot lately. I joined a knitting group with a few women from school. They meet twice a month but I usually only make it once. I want to have some progress to show month to month, so I've been making more of an effort to pick up my needles.
I started a project in August. I bought the yarn for the project last January because I saw a sample scarf in my LYS. It was so lovely. The owner didn't have the pattern, but thought I could figure it out easily. Fast forward a few months and I was back in the LYS and they had the pattern. I immediately bought it. Fast forward until August and my needles were free and I decided it was time.
It was a doomed project. It took me three times to start and get the stitch pattern down. I finally knit close to 9 inches, picked it up to lovingly admire my work and noticed a dropped stitch in the first two inches. I had to frog most of it and start yet again. Since I knew I loved the scarf, I kept at it.
Life got busy when school started and it sat on my desk for a couple of weeks. In mid September, I went to knitting group and had to find something to take with me, the scarf was on top. As I knit that night, I knew exactly what I was knitting. It was a 40th birthday present for my roommate from college & B's godmother. I just knew that it belonged to her.
Her birthday was in mid October so I had a lot of work to do. I knit when ever I could, waiting rooms, carpool lines, gymnastics class. I still didn't make it time for the actual birthday. I did finish it early November. I decided to keep it for a week or two to show it off at knitting group, since they had seen it grow from the start.
Finally Wednesday, I mailed off the gift.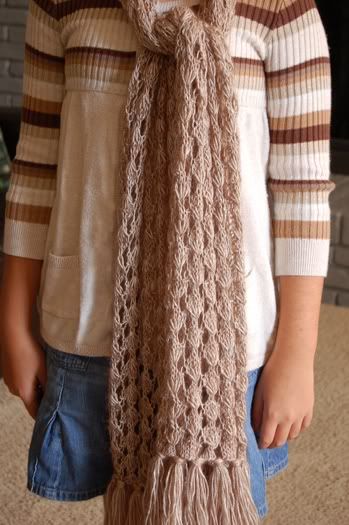 Details on K's scarf
Today I got a call from K. The scarf had arrived and she was so gracious and loved it. It was so nice to know I was right, it was meant for her.