DH & I spent yesterday laboring to get ready for the party. He mowed & trimmed. I weeded & mulched. We hung lights and cleaned outdoor furniture. The outside is looking good.
We tested out the lighting with a cold beer at the end of a very long, hard day. I love my candles!!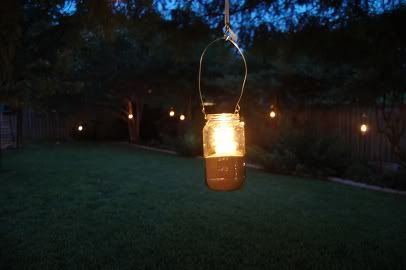 Now to tackle the inside. I've got to vacuum, clean bathrooms and declutter. DH is taking on ice & music. I think I'm getting the raw end of this deal. He probably doesn't want to spend the evening listening to Van Morrison and Chick with Guitar music and it is his birthday party, so I'll let him get away with it!