We arrived home late last night. I was intent on unpacking the car and putting children to bed. I wasn't happy when A started yelling for me to come here and come here now. She was at the front door and I thought she was complaining that the stuff I gave her to carry was too heavy.
Finally she yelled for me to bring the camera. I dropped my stuff, grabbed the camera from my purse and ran to the front door.
This is what I saw.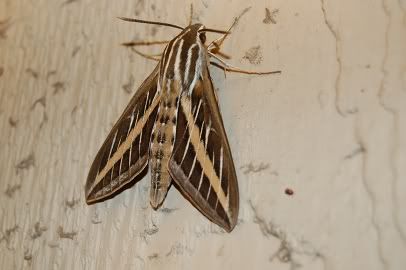 A white-lined sphinx moth, the most common sphingid in Dallas County, per the Dallas County Lepidopterists' Society
website
.