Last night we had the celebration. It turned out fabulously. I estimate we had 75 people come. DH is way too popular. The evening was perfect. At one point it did start to rain. Luckily we redid the porch in December and made great use of it. I didn't realize we could fit that many people out there. The temps also cooled after the rain so it was a bonus.
I brought my camera out but it was so humid out the lens immediately fogged over. I set it down and promptly forgot about it. I finally remembered at the very end. It was around 2am and the old grade school/high school crowd was still hanging in there.
I took pictures this morning of the aftermath. It didn't look too bad because at 1am, I changed my clothes & started cleaning up.
the remnants of the beer & cokes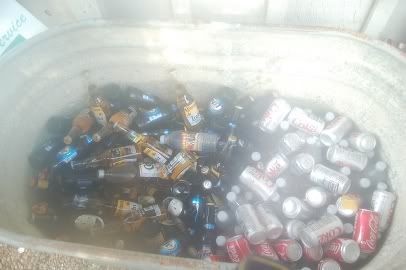 the remnants of the moonshine




birthday water bottles featuring DH's senior photo & shot glasses brought all the way from Kazakhstan by S#2.




My candles were lovely. Unfortunately, the rain doused the flames but a friend Byron found the lighter and managed to light most of them again.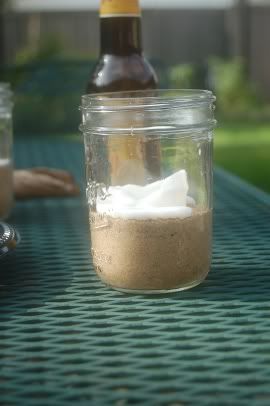 And the trash. There was a lot of trash!


A friend emailed this morning saying he had a great time at DH's 40th and we should make it an annual event. Despite it being a fun night, I think I'm done with parties for quite awhile. A long while!