The kids all made me a gift for my birthday. They worked on it one afternoon in secret in A's room. I knew something was going on because they were all in her room with the door shut and no screaming. It was a once in a lifetime 30 minutes of getting along.
Here is my gift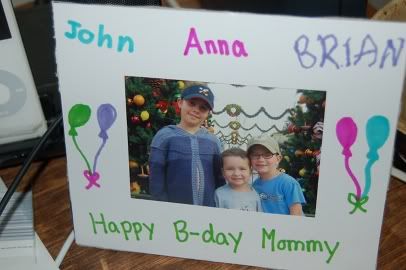 I'm all about reduce/reuse/recycle crafting so I love this gift. They cut up a shoe box to make the frame and used a leftover christmas photo card. DH helped A figure out how to just the back piece to make a stand for the frame.
On my birthday J made me a card. He was going to make it elaborate but he got distracted. I love it!
Since J was making a card, B wanted to make one too. He cried because he doesn't know how to spell. I helped him out by writing the letters for him and he copied and drew the birthday cake. For a kid who refuses to (or has a bad learning disability which I fear I am ignoring and cannot) remember his letters, he does a good job of copying them.