The first week of school went fine for A&J. Friday after school we put them to work cleaning the house. S#1 was coming into town for an engagement party for S#5. We had to get things ready since she was staying here with us.
Saturday the kids went with the ILs for the night. We picked up S#1 at the airport, ate lunch, went shopping, relaxed and went to the party. S#4 came into town for the party too so we had 4 of the 5 of us together. It doesn't happen very often. Too bad S#2 moved to Kazakhstan on Friday. It was a lovely party and we all had fun.
Today the whole family joined us for a late lunch/early dinner. My birthday is on Tuesday and we started talking about what cake I would have for my birthday. S#1 (who is here until Tues) said we should have cake on Monday so we can celebrate with her. Then S#4 said we should have cake today so she could celebrate too. So S#1 & S#5 ran to the grocery for a grocery store white sheet cake with buttercream icing (one if S#1's favorite indulgences) and we had Birthday Celebration #1.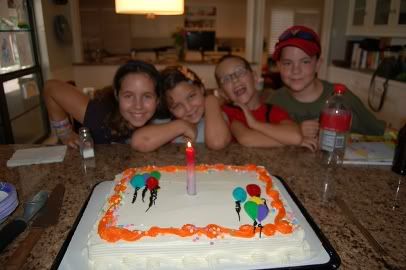 Tomorrow Mom is making chocolate mocha cake & we'll have Birthday Celebration #2. Then Tuesday is the actual birthday and I'll have Birthday Celebration #3. That's the one I'm most excited about because
Mockingjay
is released on my birthday! Everybody needs 3 days of birthday, right???