DH's birthday was 10 days ago. For his birthday, he found tickets to the A&M/Alabama game on StubHub. He called me up to tell me he bought his birthday present.
He flew down to Houston meet BIL#2 on Friday. They went to the Astros game on that night and headed to College Station Saturday morning.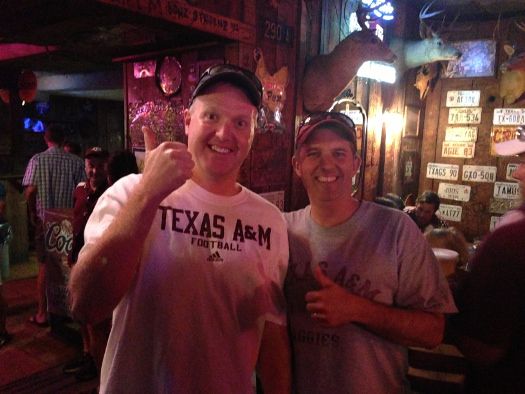 He, BIL & BIL's boss had a good time tailgating and hanging out on Northgate. About an hour before the start, they headed into the stadium. When the first ticket scanned, the scanner said "STOP". The ticket guy sent them them to the ticket office. Sure enough, the tickets were counterfeit. It was not a happy situation. The ticket lady was very nice. She offered to sell them tickets at face value. What a stroke of luck. The tickets were better seats, in the shade and less than1/3 the price he paid for tickets on StubHub.
They were finally in the stadium ready to watch a good football game. After all they went through to get to the game, it would have been nice to have the comeback win. Almost.
On the way home to Dallas, DH called StubHub to figure out what they could do about the counterfeit tickets. StubHub was just as great as the Aggie Ticket Office. They immediately credited our credit card for the cost of the tickets he purchased. They also gave him a StubHub credit for the cost of the replacement tickets they purchased that day. Nice customer service,
StubHub
!