A week or so ago, we went to the horse races. It was a 'Night Out with Friends' party from the school auction. There were 10 couples in an air-conditioned suite at the finish line. Pretty sweet.
DH & I made lots of bets and didn't do very well. I was convinced that I was going to win in the 5th. There was a horse named Bernies Princess. That is S#2's first name so it had to be a winner. I made the huge bet of $5.00 to win. It was a sure thing.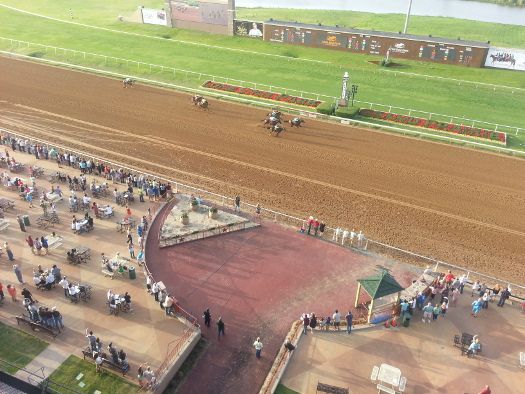 Unfortunately another horse came up on the outside at the very end and Bernies Princess came in second. I should have bet $5 to place instead!
I did end up getting an exacta in the 8th race. I picked The Tip and New Hire and won $45.00. I also picked a horse to show in the 10th race and won a couple of dollars. Poor DH didn't win a single bet, that's what he gets for playing the superfecta.
It was a fun night out with friends. Hopefully we'll get to go again next year.