A long time ago for Christmas of '07, S#2 got B a Christmas present. At the time he was obsessed with football. He would walk around the house yelling "Football, Touchdown!" She wanted to buy him a Cowboys outfit, but it was too expensive, instead she found a Ravens outfit on eBay for $.99.
Wasn't he cute? The whole thing barely fit him. He still ran through the house yelling "Football, Touchdown!" with the helmet wobbling on his head.
He's worn that outfit a lot. He squeezed into it as long as he could. Here he is almost
4 years later
.
A year or so later, he could no longer squeeze into the costume. We recently donated the shirt and pants. He insisted on keeping his Ravens helmet. It's a good thing because he was ready for the Super Bowl on Sunday night.
My little Baltimore Ravens fan was excited for his team to win.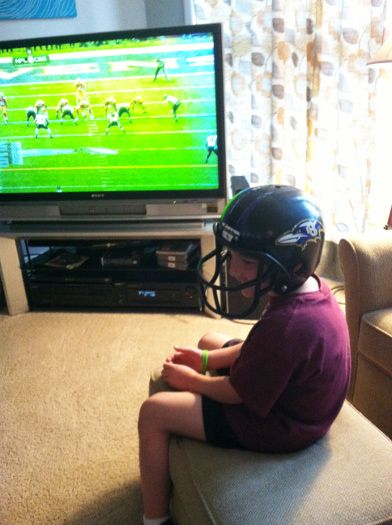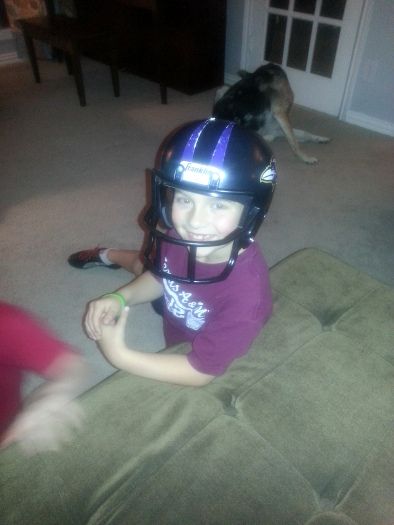 BIL#2 organized a squares pool for the big game. A & B were lucky and won the first and second quarters.
J was robbed twice. At the end of the 3rd quarter, SF missed a field goal. J was going to win the quarter, but there was a penalty. SF kicked again, it was good and J didn't win. At the end of the 4th quarter, Baltimore had the ball and was just running out the clock. I left the room because the game was over. Next thing I know, DH is yelling that J was robbed again. (Really aside from B, we were all watching the game to see who would win the squares pool, not to see who would win the football game.) He came in to tell me that Baltimore was running around wasting time and ran out the endzone, taking a safety. J who was assured his $20 for the last quarter, lost it to S#5. Poor J. Maybe next year!