This week is Catholic Schools Week. There have been lots of happenings at school. I had 'eat lunch with your kid' on Monday (A), Tuesday (B) and today (J). Tomorrow is Grandparents Day. Last night was the family dinner. This is a catered barbeque dinner and the science showcase. It is not a science fair because they don't judge the projects and give out awards, instead it is just a demostration. I'm not sure how I feel about that. I think if I put all the time that A did into her project, I'd like the possibility of winning a ribbon. Oh well, everybody wins attitude prevails.
Enough about that. The dinner was crowded and hectic as usual, but I got to sit and talk to a friend I never get to talk to. B gobbled down his food and ran out to play on the playground with his friend. J ran around with his cousin and friends. I only saw A once in passing and it took me 15 minutes to track her down when it was time to leave. I think everyone had fun.
We did make it over to the science showcase. I took pictures of A's project and cousin E's project. They were right next to each other. The purpose of Anna's project was to figure out the best way for her mother to dye yarn and make the color fast. Alum is the answer. E did the opposite figuring out what is the best method to bleach fabric.
As we were leaving A showed me that her CSW poster was picked to hang in the hallway.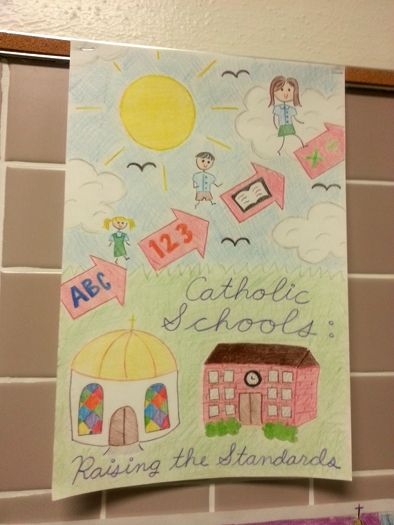 We checked out the pictures from the other grades and I found J's picture was hung up also.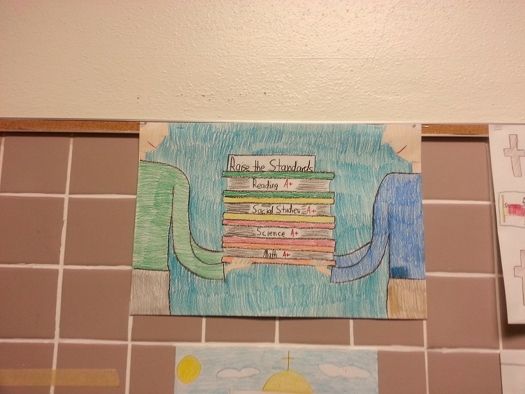 I went back to look at the first grade pictures to see if I could figure out if B's picture was selected also. It would have been a trifecta of CSW poster hanging. Unfortunately, I couldn't figure out if his was among the 1st grade posters. Maybe next year.