The holiday weekend was fine. Other than A's tournament, we didn't do much. Just the way I like it.
Reality hit on Tuesday morning which felt like a bad Monday morning. The excitement of school has totally worn off with B and it is a struggle to get him up, out of bed, dressed & fed by 7:30am. I have a good 10 minutes leeway but if we don't leave by 7:30 then I hear it from A about how awful it is to get to her locker and get her books and not get stepped on and have teachers yell at her for being late. I strive for 7:30.
Back to Tuesday, B was not being most cooperative. Things were definitely off. I had a meeting at the school at 8am so I had to be ready also. While in the shower I heard the beeps of a door being opened multiple times. Not a good sound.
Once dressed, I stomped out to finish getting them ready to school. As soon as I emerged from my room B came running up yelling, "Mom, you gotta come see and bring your camera."
That is music to my ears. Who cares about being late to school when there's something interesting to photograph. All frustration at the morning was gone and I went outside. It was definitely worthy.
Cicada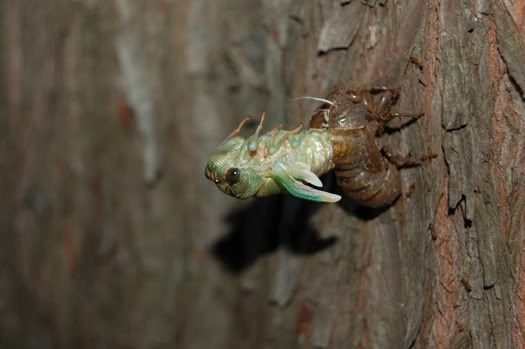 I had never seen a cicada emerge from its shell before. It was definitely cool. A was impatient and it was time to leave so I had to quit taking pictures. I'm sad that I didn't get to watch it inflate it wings and fly away. At least I have something to look forward to, next time.