We attended the kids' school
auction gala
a couple of weeks ago. We didn't go crazy at the auction part of the gala. Okay, DH purchased 2 parties, the Cinco De Mayo party and the Man Party. I'm obviously not attending the Man Party. I'm not sure what the Man Party is but the description is "if you have to ask what the Man Party is, then it probably isn't the party for you." I imagine there will be a bus, a few bar stops, too many drinks & maybe alcohol induced illness involved. I'm glad I'm not attending. We've done the Cinco De Mayo party for a couple of years and I wanted to try a new one, so I purchased the Inwood Tavern party. A party with 12 couples, a band & drinks on the back patio at the
World Famous Inwood Tavern
sounds like good fun to me.
I never really went through the rest of the silent auction stuff and realized with a minute to go that it was closing. I was a little disappointed because I wanted to buy a tree.
A few drinks and a few hours later, I was still disappointed. I tracked down the guy in charge of the auction and told him I had to have a tree. Now I do!

The new live oak tree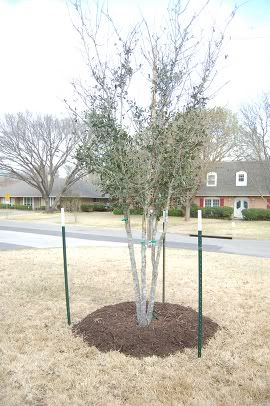 In relation to the house



In relation to B & the 40 year old live oak on the other side of the yard

And because I had the camera out

J in a tree



B in a tree