This afternoon A danced the part of the Russian Sentinel in the Moscow Ballet's Nutcracker.
I had to drop her off at the Music Hall at Fair Park at 10am. There was a slight bit of panic before hand because I didn't have all the stuff for her hair. I made a quick stop at CVS for hair net and hair pins and drove downtown. We got there just in time. I walked in with her to check in. I asked someone about helping her with her bun since I am pretty useless with hair. I turned around to see a total look of panic on her face. We went out to the hall and found a water fountain. She had a drink of water and got out the tic-tacs I also bought at CVS. I figured sucking on some mints would help distract her. We headed back to the waiting room and I stayed until the stage mom took them up to their dressing room.
I prayed all morning long that she was okay. I know that 'panic, what have I gotten myself into, I'm not sure if I can breathe' feeling well.
Luckily she did beautifully. She smiled so big and danced her part perfectly. The best part was when she walked out the stage door at the end and said she could wait to do it again next year!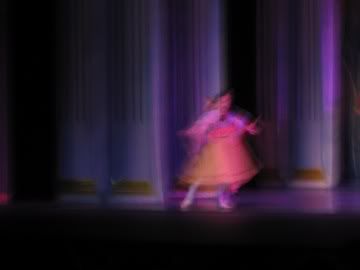 P.S. My pictures are awful because I followed the rules and didn't use flash! But you get the idea.