Dh & I headed to the ballpark yesterday to watch the Rangers playoff games. We had such high hopes. This could be the first Rangers playoff win at home. This could be the first Rangers playoff series win.
Everyone was excited.



Towels were waived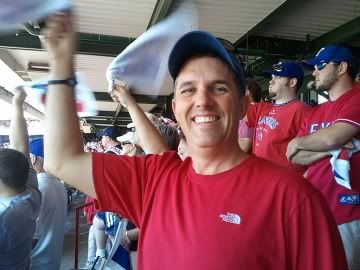 Great first pitch

Unfortunately it went downhill from there. Despite a rally in the 6th, the Rangers were never able to pull it together. They head back to FL for game 5. Maybe this will be it. We'll keep our fingers crossed.
The highlights of the afternoon were the periodic text updates from the Chicago Marathon tracking. S#1 ran the marathon yesterday. Big cheers to Barbara for pulling off what the Rangers couldn't, an amazing victory and celebration of all your hard work & training! Congrats to you!