Last night I went to the first American League Championship game in Texas Rangers history. It was a monumental night, or it would have been if they had managed to win. Oh well.
DH had committed himself to helping set up the Autumnfest at school so I took my dad with me instead. We had a scenic drive to the ballpark. I got on the highway and hit traffic way before I ever expected. I pulled out my smart phone and followed back streets all the way there. It took us about 40 minutes to get there once we got out of the traffic, which isn't bad at all.
The game was great until the 7th inning. Poor Rangers. Losing to the dreaded Yankees once again!! Hopefully they will do better today!

The banner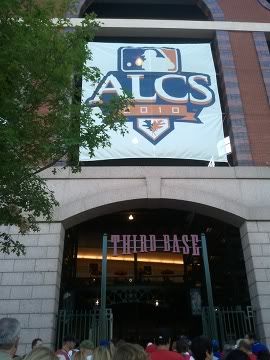 The teams



The flyover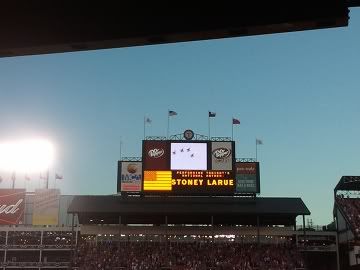 The first pitch



The mascot



Dad & the huge ice cream



The angry man who shouted all kinds of obscenities at the Yankee fans. He spent the last inning looking backwards instead of at the game!