A repeated last year's Felicity costume. That was easy.
J wanted to be a police officer and was happy with the cheap costume from the temporary Halloween store. I talked my way into a 20% discount too! Made me feel better about spending $20 on such a cheaply made costume.
B told me weeks ago that he wanted to be a werewolf. I didn't do anything about it because I thought for sure he would change his mind and want to be a football player again. Yesterday he still had not changed his mind so I quickly made a werewolf costume.


with fangs & nose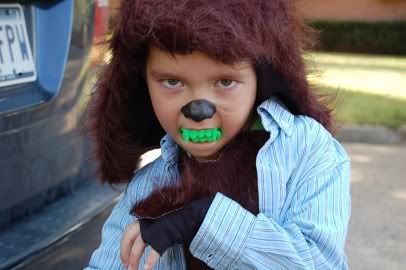 He wore the costume to the party last night & to the Halloween parade this afternoon but by the time he went trick or treating, he was in a football costume. I should have told him no and saved myself the trouble. At least I have cute pictures.