Yesterday evening we went on a cub scout outing to the planetarium at St. Mark's School. J loved it. Despite not really wanting to go (A) and not understanding what it was (B), the siblings loved it too.
(Aside, I was appalled by the behavior of the boy scouts. Okay, maybe I'm overreacting and maybe I'm used to girls instead of boys, but they were making loud comments and jokes and speaking when the planetarium speaker was doing his presentation. I wanted to scream. Finally one of the mom/den leaders asked them to calm down but it didn't last long. It convinced me that I am truly a mean girl scout leader because if it had been my troop I would have stopped him and yelled! At a break I made J move from sitting with a bunch of 2nd grade boys to sit with me. I didn't want him being a part of it!)
When we got home it was getting late & dark. I sent all of the kids outside to play with the dog. We've been so busy lately, Frankie hasn't been getting a lot of attention. They obeyed without complaining. However, after 10 minutes, I realized that Frankie was sent inside and the kids were outside. I had to go figure out what they were up to.
Here is what I found, chalk shadows!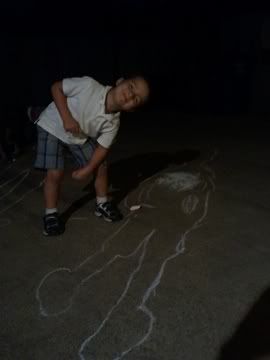 I love it when they actually cooperate and get along together!