We headed out to the Ballpark in Arlington for Opening Day today with Sister #2 and 3 of her 4 girls. It was a good day.
We dropped off the tickets and A at my sister's house and picked up my niece M. DH was antsy to get there early for all the "festivities" and to miss the traffic. We got down there quickly with no traffic. He was happy.
First we watched batting practice. There was a free concert before the game. I fist-bumped this
guy
. He's the lead singer of Cowboy Mouth, a band that DH and I never missed when they came to town before we had children. We met up with my sister & the girls at the concert. They played a few songs we actually knew but it's hard to get a crowd of 50 people really rocking at 11am on a Monday.
Next we headed into the stadium to our seats. They had lots of pre-game activities.

A huge flag for the national anthem.



Jets flying overhead



A double amputee parachuted in with the first ball (pictures didn't turnout, but here's a link to pic on Sister#2's blog) which was thrown out by Roger Staubach (which I missed taking children to the restroom).

Excited fans
Niece M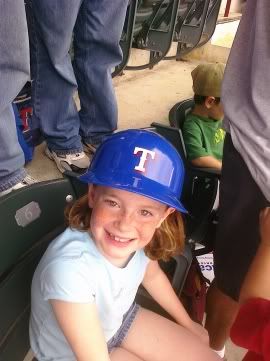 DH & J (B was hiding from the camera)



The game itself wasn't that great for the most part. The first 4 innings were especially bad for me because this was my view.



Luckily after the 5th the guys went for beer and switched seats around. I was finally able to watch the game. There was a great 3 run homerun to tie the game in the 7th and a dramatic come from behind win the bottom of the 9th. M & J weren't really paying attention and asked why everyone was cheering. I told them we won and they got excited.