Last year I spent a long time working in the
back alley
to spruce it up. (I guess I never took pictures of the completed alley, or at least I couldn't find any.) It went from patches of dirt and weeks to nice day lilies and mulch. It looked much better.
At least it did until midsummer when the weeds started taking over. DH weeded it thoroughly a few times between then and now. It's hard work to weed that area. This year, I wanted to try to stop them before they could take over.
I went the
newspaper/compost route
. Hopefully it will help suppress the weeds and if not, it might improve the soil back there. There is a layer of wet newspaper covered by 3-5 inches of compost, topped with what was left of the mulch from last year.
I am very happy that when DH weeded last week, he discovered that my day lilies from last year survived our harsh winter.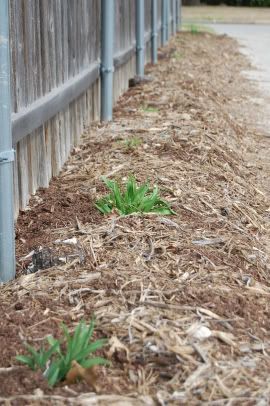 Now onto the next project.
A neighbor dropped off a half a truck load of garden soil. I need to remove my first attempt at weed suppression (cardboard with some leaves dumped on top, not much success) to the compost bin. I need to dig up the plants that are taking over the back of the bed. I need to build a trellis for tomato and maybe cucumber plants. Finally the kids and I can plant a garden. I know A is looking forward to it.