B made his First Communion last Saturday. He was so excited about everything. He was going to wear a suit. He was going to wear a tie. He was going to receive communion. He got to pick the food and the cake. It was going to be a huge day.
He was up and ready early. The only panic moment was when I realized he was brushing his teeth in his navy blue pinstripe and tie. We did a quick removal of stainable clothes and then he brushed.
I skipped the photographer at the church so I tried to get pictures before.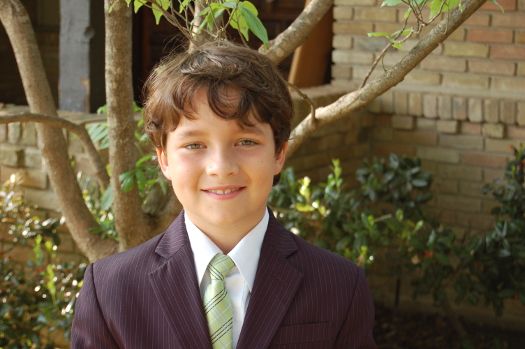 Definitely not portrait worthy. I think I'm going to have to dress him up and try again. Or pay someone to do it.
I did take a picture of him headed toward his pew as they entered the church, but I listened to the priest this time and didn't try to take pictures during mass.
Once at home, he got his cake and his new rosary. It was a good day.